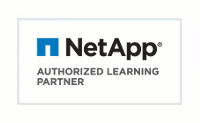 ONTAP Cluster Administration (ONTAP9ADM)
Course Content
This 3-day, instructor-led course uses lecture and hands-on exercises to teach the basic administration tasks of a NetApp® ONTAP® 9.8 cluster. You use the clustershell and NetApp ONTAP System Manager to manage storage and network resources. ONTAP Cluster Administration is an intermediate course in a comprehensive learning path for NetApp customers, partners, and employees. This course is generally taught with the 2-day ONTAP Data Protection course.
Who should attend
Network Engineers
Channel Partners
System Engineers
NetApp Customers
Certifications
This course is part of the following Certifications:
Prerequisites
!

NA-ONFWBT

!

NA-OSFWBT
Introduction to Networking in Clustered Data ONTAP (WBT)
Course Objectives
This course focuses on enabling you to do the following:
Manage ONTAP administrators
Configure and manage storage resources
Configure and manage networking resources
Create and manage local and cloud storage tiers
Create and configure a storage VM (storage virtual machine, also known as SVM)
Create and manage NetApp FlexVol® volumes, FlexGroup volumes, and FlexCache® volumes
Implement storage efficiency features
Configure and manage NAS, SAN, and object-protocol servers within an SVM
Configure basic data protection features
Perform administrative and preventive maintenance tasks
Follow On Courses
Outline: ONTAP Cluster Administration (ONTAP9ADM)
Module 1: NetApp ONTAP 9 Clusters
ONTAP deployment options
The Cluster
Storage Virtual Machine's (SVMs)
Module 2: Cluster Setup
Supported All Flash FAS and FAS configurations
Setting up a Cluster
Administration Interfaces
Module 3: Cluster Management
Access control
Date and Time
Licenses
Policies, Jobs and Schedules
Module 4: Network Management
NetApp ONTAP Network Review
Network Ports
Network Traffic Segregation
LIFs
Nondisruptive LIF configuration
Routing Management
Module 5: Physical Storage Management
Drives, RAID and Aggregates
Advanced Drive Partitioning
Flash Cache and Flash Pool
FabricPool Aggregates
Module 6: Logical Storage Management
Flexible Volumes
Provisioning Storage Resources
Moving Storage Resources
Module 7: Data Access
Using NAS Protocols to Access Data
Use SAN Protocols to Access Data
Module 8: Data Protection
Manage Snapshot Copies
Restore Data from a Snapshot Copy
Backup and Replicate Data
Compliance
Storage Encryption
Module 9: Storage Efficiency
Thin Provisioning
Deduplication and Compression
Flash Efficiency
FlexClone Volumes
Module 10: Cluster Maintenance
Data collection, Monitoring and Automation Tools
Backing up and Restore Cluster Configuration
Upgrading your Cluster
Performance Recommended Practices
Technical Support
Documentation
Module 11: Course Review

ONTAP9ADM Labs:
Exploring ONTAP Management UIs
Managing ONTAP clusters and administrators
Managing physical and logical network resources
Managing virtual network resources
Managing physical storage
Exploring RAID-TEC and creating a flash pool
Managing data volumes
Configuring NAS protocols in an SVM
Configuring iSCSI in an SVM
Managing Snapshot copies
Encrypting a volume
Managing storage efficiency
Managing FlexClone volumes
Bonus Exercise: creating a FlexGroup volume
Installing and configuring Config Advisor
Online Training
Duration 3 days
Price
US$ 2,700

NetApp Training Units:

36 NTU




NTU's may not have the same redemption value if used in a country other than where they were purchased.
Classroom Training
Duration 3 days
Price
United States:

US$ 2,700

NetApp Training Units:

36 NTU




NTU's may not have the same redemption value if used in a country other than where they were purchased.
Click on town name or "Online Training" to book
Schedule
This is an Instructor-Led Classroom course
Guaranteed date: This green checkmark in the Upcoming Schedule below indicates that this session is Guaranteed to Run.
This class will become guaranteed to run with one more student registration.
Instructor-led Online Training: This is an Instructor-Led Online (ILO) course. These sessions are conducted via WebEx in a VoIP environment and require an Internet Connection and headset with microphone connected to your computer or laptop.
This is a FLEX course, which is delivered simultaneously in two modalities. Choose to attend the Instructor-Led Online (ILO) virtual session or Instructor-Led Classroom (ILT) session.
North America
United States
Currently there are no training dates scheduled for this course. You can schedule a private, onsite training session or request a public date by emailing info@fastlaneus.com.
Europe
Germany
Austria
Online Training

Time zone: Europe/Vienna

Enroll

This is a FLEX course.

Vienna (iTLS)

Enroll

Online Training

Time zone: Europe/Vienna

Enroll

Online Training

Time zone: Europe/Vienna

Enroll

Online Training

Time zone: Europe/Vienna

Enroll

Online Training

Time zone: Europe/Vienna

Enroll

Online Training

Time zone: Europe/Vienna

Enroll

Online Training

Time zone: Europe/Vienna

Enroll

Online Training

Time zone: Europe/Vienna

Enroll

Online Training

Time zone: Europe/Vienna

Enroll

Online Training

Time zone: Europe/Vienna

Enroll
France
This is a FLEX course.

Paris

Enroll

Online Training

Time zone: Europe/Paris

Enroll

This is a FLEX course.

Paris

Enroll

Online Training

Time zone: Europe/Paris

Enroll

This is a FLEX course.

Paris

Enroll

Online Training

Time zone: Europe/Paris

Enroll

This is a FLEX course.

Paris

Enroll

Online Training

Time zone: Europe/Paris

Enroll

This is a FLEX course.

Paris

Enroll

Online Training

Time zone: Europe/Paris

Enroll

This is a FLEX course.

Paris

Enroll

Online Training

Time zone: Europe/Paris

Enroll

This is a FLEX course.

Paris

Enroll

Online Training

Time zone: Europe/Paris

Enroll
Greece
Online Training

Time zone: Europe/Athens

Course language:

English

Enroll
Italy
Online Training

Time zone: Europe/Rome

Enroll
Netherlands
This is a FLEX course.

Utrecht

Course language:

English

Enroll

Online Training

Time zone: Europe/Amsterdam

Enroll

This is a FLEX course.

Utrecht

Enroll

Online Training

Time zone: Europe/Amsterdam

Enroll
Portugal
This is a FLEX course.

Lisbon

Enroll

Online Training

Time zone: Europe/Lisbon

Enroll

This is a FLEX course.

Lisbon

Enroll

Online Training

Time zone: Europe/Lisbon

Enroll

This is a FLEX course.

Lisbon

Enroll

Online Training

Time zone: Europe/Lisbon

Enroll
Romania
Online Training

Time zone: Europe/Bucharest

Course language:

English

Enroll
Spain
This is a FLEX course.

Madrid

Enroll

Online Training

Time zone: Europe/Madrid

Enroll

This is a FLEX course.

Madrid

Enroll

Online Training

Time zone: Europe/Madrid

Enroll

This is a FLEX course.

Madrid

Enroll

Online Training

Time zone: Europe/Madrid

Enroll
Switzerland
This is a FLEX course.

Zurich

Enroll

Online Training

Time zone: Europe/Zurich

Enroll

This is a FLEX course.

Zurich

Enroll

Online Training

Time zone: Europe/Zurich

Enroll

This is a FLEX course.

Zurich

Enroll

Online Training

Time zone: Europe/Zurich

Enroll

This is a FLEX course.

Zurich

Enroll

Online Training

Time zone: Europe/Zurich

Enroll

This is a FLEX course.

Zurich

Enroll

Online Training

Time zone: Europe/Zurich

Enroll

This is a FLEX course.

Zurich

Enroll

Online Training

Time zone: Europe/Zurich

Enroll

This is a FLEX course.

Zurich

Enroll

Online Training

Time zone: Europe/Zurich

Enroll

This is a FLEX course.

Zurich

Enroll

Online Training

Time zone: Europe/Zurich

Enroll