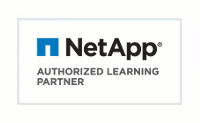 ONTAP Data Protection Administration (DATAPROT9)
Course Content
This course introduces some of the key concepts and techniques for protecting data on NetApp® ONTAP® systems. You learn about the different data protection solutions that are integrated in ONTAP software. You also learn about the tools for managing ONTAP data protection features. In the hands-on exercises, you use ONTAP System Manager and the CLI to execute key data protection tasks. This course is updated for ONTAP 9.7.
Who should attend
Network Engineers
Channel Partners
System Engineers
NetApp Customers
Certifications
This course is part of the following Certifications:
Course Objectives
Describe the data protection features in ONTAP software
Configure SnapMirror® relationships for data replication
Demonstrate storage virtual machine disaster recovery (SVM DR)
Explain MetroCluster™ components and configuration
Configure the SnapVault® feature for disk-to-disk backup and recovery
Describe NDMP-enabled operations to back up NAS data to tape storage
Describe the NetApp SnapCenter® software that is used for ONTAP data protection management
Explain cloud-based data protection with NetApp Cloud Volumes ONTAP
Outline: ONTAP Data Protection Administration (DATAPROT9)
Module 1: ONTAP Integrated Data Protection
Data Fabric and ONTAP Software
ONTAP Data Protection Solutions
Data Protection Management Solutions
Module 2: SnapMirror Fundamentals
SnapMirror Overview
Configuring SnapMirror Relationships
Additional SnapMirror Configuration Considerations
Guidelines for Intercluster Networking
Cluster and SVM Peering
Module 3: SnapMirror Operation
SnapMirror Asynchronous
Using SnapMirror for Disaster Recovery
SnapMirror Synchronous
SnapMirror and ONTAP Feature Interaction
Module 4: Storage Virtual Machine Disaster Recovery
SVM Disaster Recovery (SVM DR) Overview
Prepare a SVM for Data Protection
Perform a SVM Initial Data Transfer
SVM Manual Update
Module 5: MetroCluster
MetroCluster Fundamentals
MetroCluster Operations
Module 6: SnapVault
Implementing a SnapVault Relationship
Using SnapVault Software to Restore Data
Module 7: NDMP and Tape Backup
NDMP Fundamentals
NDMP Management
Module 8: SnapCenter
NetApp SnapCenter software
Integration with third-party management software
Module 9: Cloud Volumes ONTAP
Cloud Volumes ONTAP Environment
Data Protection Capabilities of Cloud Volumes ONTAP
Module 10: Course Review

ONTAP Data Protection Labs:
Configuring a load-sharing mirror relationship
Configuring cluster peering and SVM peering
Using SnapMirror software to mirror FlexVol volumes
Performing SnapMirror disaster recovery
Configuring a SnapMirror synchronous relationship
Using FlexClone technology to clone a SnapMirror volume
Configuring storage virtual machine disaster recovery
Configuring the SnapVault relationship
Using SnapVault to restore data
Online Training
Duration 2 days
Price
US$ 1,800

NetApp Training Units:

24 NTU




NTU's may not have the same redemption value if used in a country other than where they were purchased.
Classroom Training
Duration 2 days
Price
United States:

US$ 1,800

NetApp Training Units:

24 NTU




NTU's may not have the same redemption value if used in a country other than where they were purchased.
Click City Name To Book
Schedule
This is an Instructor-Led Classroom course
Guaranteed date: This green checkmark in the Upcoming Schedule below indicates that this session is Guaranteed to Run.
Instructor-led Online Training: This is an Instructor-Led Online (ILO) course. These sessions are conducted via WebEx in a VoIP environment and require an Internet Connection and headset with microphone connected to your computer or laptop.
This is a FLEX course, which is delivered simultaneously in two modalities. Choose to attend the Instructor-Led Online (ILO) virtual session or Instructor-Led Classroom (ILT) session.
Europe
Germany
Austria
This is a FLEX course.

Vienna (iTLS)

Enroll

Online Training

Time zone: Europe/Vienna

Enroll

This is a FLEX course.

Vienna (iTLS)

Enroll

Online Training

Time zone: Europe/Vienna

Enroll

Online Training

Time zone: Europe/Vienna

Enroll

Online Training

Time zone: Europe/Vienna

Enroll

Online Training

Time zone: Europe/Vienna

Enroll

Online Training

Time zone: Europe/Vienna

Enroll

Online Training

Time zone: Europe/Vienna

Enroll
Bulgaria
Online Training

Time zone: Europe/Sofia

Course language:

English

Enroll
France
This is a FLEX course.

Paris

Enroll

Online Training

Time zone: Europe/Paris

Enroll

This is a FLEX course.

Paris

Enroll

Online Training

Time zone: Europe/Paris

Enroll

This is a FLEX course.

Paris

Enroll

Online Training

Time zone: Europe/Paris

Enroll
Greece
Online Training

Time zone: Europe/Athens

Course language:

English

Enroll
Italy
Online Training

Time zone: Europe/Rome

Enroll

Online Training

Time zone: Europe/Rome

Enroll

Online Training

Time zone: Europe/Rome

Enroll
Netherlands
This is a FLEX course.

Utrecht

Course language:

English

Enroll

Online Training

Time zone: Europe/Amsterdam

Enroll

This is a FLEX course.

Utrecht

Enroll

Online Training

Time zone: Europe/Amsterdam

Enroll
Portugal
This is a FLEX course.

Lisbon

Enroll

Online Training

Time zone: Europe/Lisbon

Enroll

This is a FLEX course.

Lisbon

Enroll

Online Training

Time zone: Europe/Lisbon

Enroll

This is a FLEX course.

Lisbon

Enroll

Online Training

Time zone: Europe/Lisbon

Enroll

This is a FLEX course.

Lisbon

Enroll

Online Training

Time zone: Europe/Lisbon

Enroll
Romania
Online Training

Time zone: Europe/Bucharest

Course language:

English

Enroll
Spain
Online Training

Time zone: Europe/Madrid

Enroll

This is a FLEX course.

Madrid

Enroll

Online Training

Time zone: Europe/Madrid

Enroll

This is a FLEX course.

Madrid

Enroll

Online Training

Time zone: Europe/Madrid

Enroll

This is a FLEX course.

Madrid

Enroll

Online Training

Time zone: Europe/Madrid

Enroll
Switzerland
This is a FLEX course.

Zurich

Enroll

Online Training

Time zone: Europe/Zurich

Enroll

This is a FLEX course.

Zurich

Enroll

Online Training

Time zone: Europe/Zurich

Enroll

This is a FLEX course.

Zurich

Enroll

Online Training

Time zone: Europe/Zurich

Enroll

This is a FLEX course.

Zurich

Enroll

Online Training

Time zone: Europe/Zurich

Enroll

This is a FLEX course.

Zurich

Enroll

Online Training

Time zone: Europe/Zurich

Enroll

This is a FLEX course.

Zurich

Enroll

Online Training

Time zone: Europe/Zurich

Enroll

This is a FLEX course.

Zurich

Enroll

Online Training

Time zone: Europe/Zurich

Enroll

This is a FLEX course.

Zurich

Enroll

Online Training

Time zone: Europe/Zurich

Enroll

This is a FLEX course.

Zurich

Enroll

Online Training

Time zone: Europe/Zurich

Enroll

This is a FLEX course.

Zurich

Enroll

Online Training

Time zone: Europe/Zurich

Enroll

This is a FLEX course.

Zurich

Enroll

Online Training

Time zone: Europe/Zurich

Enroll
United Kingdom
Online Training

Time zone: Europe/London

Enroll

Online Training

Time zone: Europe/London

Enroll

This is a FLEX course.

London, City

Enroll

Online Training

Time zone: Europe/London

Enroll

This is a FLEX course.

London, City

Enroll

Online Training

Time zone: Europe/London

Enroll

This is a FLEX course.

London, City

Enroll

Online Training

Time zone: Europe/London

Enroll
Asia Pacific
Australia
Guaranteed to Run

Online Training

Time zone: Australia/Melbourne

Enroll

Online Training

Time zone: Australia/Melbourne

Enroll

Online Training

Time zone: Australia/Melbourne

Enroll

Online Training

Time zone: Australia/Melbourne

Enroll

Online Training

Time zone: Australia/Melbourne

Enroll