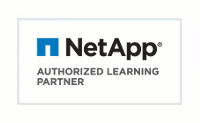 ONTAP Performance Analysis (PERFCDOT)
Course Content
This course provides you with the knowledge and skills that you need to collect and analyze system performance data from NetApp storage systems that are running ONTAP 9. You will learn how to interpret data and how to identify and implement changes that improve system efficiency. You will also learn how to use system commands and features to monitor and enhance storage system performance by using hands-on exercises, case studies and technical discussion.
Who should attend
Professionals who manage NetApp storage systems and would like a deeper understanding of Clustered Data ONTAP system performance
Prerequisites
Hands-on experience with ONTAP software (6 to 12 months)
Course Objectives
Understand how a storage system running ONTAP 9 functions
Identify the commands and tools to use to collect and monitor storage system performance
Interpret performance data and identify hindrances to storage system performance
Use system commands and features to enhance storage system performance and efficiency
Outline: ONTAP Performance Analysis (PERFCDOT)
Module 1: How a NetApp Storage System Works
NetApp FAS system architecture
ONTAP architecture layers
Data access
NVRAM
Module 2: Performance Analysis Tools
Performance terminology
Performance guidelines and methodologies
Analysis tools and commands
Output commands
Tools for performance measurement
AutoSupport tools
Perfstat
OnCommand Insight
Module 3: OnCommand Performance Manager
Features
Dashboard
Performance troubleshooting
Events
User defined thresholds
Module 4: CPU and Memory Performance
CPU performance bottlenecks
Resolving bottlenecks
Memory performance bottlenecks
Resolving bottlenecks
Module 5: WAFL Performance
WAFL functions
Inodes
WAFL readahead
Resolving WAFL issues
Best practices
Module 6: Disk I/O Performance
Disk subsystem hardware and software
Subsystem bottlenecks
Analyzing bottlenecks with Statit
Resolving bottlenecks
RAID-DP technology
Module 7: Flash Cache and Flash Pool Performance
Virtual Storage tier
Flash pool
Flash cache
Automatic workload analyzer
Cache performance issues
Module 8: Cluster Interconnect Performance
Cluster interconnect uses
Switchless and switched configurations
Cluster interconnect bottlenecks
Bottleneck resolutions
Module 9: Storage QoS
Managing system performance with QoS
QoS policies
Reactive storage QoS
Proactive storage QoS
Monitoring commands
Module 10: NAS Performance
NAS functions
Bottlenecks
NAS protocol traffic
Monitoring NFS usage commands
Monitoring SMB usage commands
Bottleneck resolutions
Module 11: SAN Performance
SAN overview
Protocols
FCoE
iSCSI
SAN LIFs
SAN performance issues
SAN multipathing
SAN load balancing
I/O misalignment
Queue depth
Module 12: Using What You Learned
Performance overview
Performance tools
Windows monitoring and analysis
Linux monitoring and analysis
VMware monitoring and analysis
Slow application performance
Using performance manager
Best practices
Labs:
Identifying cluster components
Analyzing performance statistics
OnCommand performance manager thresholds, events and alerts
Identifying and resolving storage controller performance issues
WAFL performance monitoring and analysis
Identifying and resolving disk I/O bottlenecks
Exploring cache performance
Cluster interconnect performance
Workload management with storage QoS
NAS performance
SAN protocol performance
Online Training
Duration 3 days
Price
US$ 2,700

NetApp Training Units:

36 NTU




NTU's may not have the same redemption value if used in a country other than where they were purchased.
Classroom Training
Duration 3 days
Price
United States:

US$ 2,700

NetApp Training Units:

36 NTU




NTU's may not have the same redemption value if used in a country other than where they were purchased.
Click City Name To Book
Schedule
This is an Instructor-Led Classroom course
Guaranteed date: This green checkmark in the Upcoming Schedule below indicates that this session is Guaranteed to Run.
Instructor-led Online Training: This is an Instructor-Led Online (ILO) course. These sessions are conducted via WebEx in a VoIP environment and require an Internet Connection and headset with microphone connected to your computer or laptop.
This is a FLEX course, which is delivered simultaneously in two modalities. Choose to attend the Instructor-Led Online (ILO) virtual session or Instructor-Led Classroom (ILT) session.
United States
Guaranteed to Run

Online Training

09:00 US/Central

Enroll

Online Training

09:00 US/Central

Enroll

Online Training

09:00 US/Eastern

Enroll

Online Training

09:00 US/Pacific

Enroll

Online Training

09:00 US/Central

Enroll

Online Training

09:00 US/Eastern

Enroll

Online Training

09:00 US/Pacific

Enroll
Canada
Guaranteed to Run

Online Training

09:00 Canada/Central

Enroll

Online Training

09:00 Canada/Central

Enroll

Online Training

09:00 Canada/Eastern

Enroll

Online Training

09:00 Canada/Pacific

Enroll

Online Training

09:00 Canada/Central

Enroll

Online Training

09:00 Canada/Eastern

Enroll

Online Training

09:00 Canada/Pacific

Enroll
Asia Pacific
Australia
Online Training

Time zone: Australia/Melbourne

Enroll

Online Training

Time zone: Australia/Melbourne

Enroll

Online Training

Time zone: Australia/Melbourne

Enroll
India
Online Training

Time zone: Asia/Calcutta

Enroll

This is a FLEX course.

Bangalore

Enroll

Online Training

Time zone: Asia/Calcutta

Enroll

This is a FLEX course.

Bangalore

Enroll

Online Training

Time zone: Asia/Calcutta

Enroll

This is a FLEX course.

Bangalore

Enroll

Online Training

Time zone: Asia/Calcutta

Enroll

This is a FLEX course.

Bangalore

Enroll

Online Training

Time zone: Asia/Calcutta

Enroll

This is a FLEX course.

Bangalore

Enroll

Online Training

Time zone: Asia/Calcutta

Enroll