Virtualized Data Center
Fast Lane is the training provider of choice when it comes to virtualized data center solutions. As the only authorized training partner of Cisco, NetApp, and VMware, we have combined the best sales and technical information from these three leading companies to create a powerful curriculum to help you sell, implement and support the most important new Data Center technologies.
The FlexPod Platform
FlexPod validated solutions combine storage, networking, and server components into a single, flexible architecture for business workloads. FlexPod solutions speed the deployment of infrastructure and business-critical applications while reducing costs, complexity, and risk. FlexPod has a broad list of validated designs for enterprise private clouds, databases, collaboration, and email, as well as for large multi-tenant clouds, business continuity, and data protection. The FlexPod Datacenter architecture can scale up or out, and can be optimized for a variety of mixed workloads in both virtualized and non-virtualized environments.
The key solution components are:
NetApp FAS unified storage systems
Cisco Unified Computing System (Cisco UCS) servers
Cisco Nexus 5000 and 7000 Series Switches
Fast Lane specializes in developing and delivering courses at the solution level where multiple vendors' technologies are assembled into the infrastructure that enables dynamically allocated storage, computer, and network resources for business applications in the data center.
FlexPod Pre-Sales Training
FlexPod Workload/Application Courses
Virtualization Experience Infrastructure
Data Center training for Sales Enablement
Data Center Infrastructure Implementation Courses
Data Center Architecture and Design Courses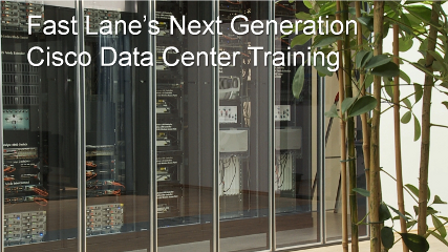 To view this video you need the Adobe Flash Player with JavaScript enabled.Get the Flash Player
Contact us.
Feel free to get in touch if you have any questions about our offering - we'll be delighted to hear from you. You can reach us any time by calling 1-855-778-7246 or sending an e-mail to info@fastlaneus.com.