Fast Lane's Government Training Solutions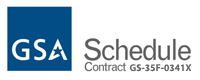 Fast Lane works with all government agencies to provide the full range of IT, InfoSec and management skills training which can be customized, or delivered in boot-camp format. We are proud to have trained thousands of Government Information Assurance and IT personnel.
We are currently working with Military and Government facilities nationwide to provide IT Training and Certification Boot camps onsite. If you have more than 6 people to be trained, we will bring the classroom to you.
Government Training Solutions:
GSA Schedule 70: Contact us for our full catalog of GSA Pricing
DoD on-base training: Fast Lane regularly delivers training and certification programs on US bases world wide. Contact our Government Customer representative for more information!
Fast Lane's DoD 8570 mandate training
Fast Lane's Cyber Security Training Portfolio
Government Payment Options - Our IT and Business Training solutions can be purchased through a variety of procurement options, including:

GSA Schedule 70, including GSA SmartPay
NASA SEWP Partnered with a Prime Contractor that is an 8(a) and ANC Small Business
FasTrac
In addition, Fast Lane partners with a variety of small business 8(a) providers including those owned by a minority, service disabled veteran, HUBzone, and native tribal (Alaskan). Our experienced government team can also assist you in procuring our products and services through Blanket Purchase Agreements (BPAs), Basic Ordering Agreements (BOAs), and Master Ordering Agreements (MOAs).
Below are a range of courses offered by Fast Lane that are offered with special GSA pricing. Contact us today if you have questions.
Cloud Computing
ITIL Training and Certification