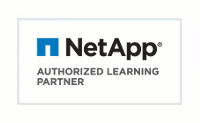 Introduction to NetApp Products
Introduction to NetApp Products (NA-INPWBT) is a free web-based training offered by NetApp. If you would like access to this free course, please click here. Once we have received your request, a Fast Lane account manager will reach out to you with the access code and instructions to begin your free training.
Product Description
In this course, you learn about the key NetApp® products and solutions and how they provide the foundation for shared IT infrastructures, dedicated application storage, and web-scale object storage. Products and solutions that are discussed in this course include NetApp FAS hardware and the NetApp Data ONTAP® operating system NetApp E-Series storage systems, and the flash portfolio. After this course, you should be able to understand the unique value of NetApp solutions.
Course Objectives
Explain how NetApp technologies provide the foundation for shared IT infrastructures
Describe the features and underlying technology of the Data ONTAP operating system and why it is the foundation for the NetApp Unified Storage Architecture
Describe the technologies, features, and benefits of NetApp efficient IT solutions and storage efficiency technologies
Describe the components, features, and benefits of the OnCommand family of products
Identity the components, features, uses, and benefits of NetApp Syncsort Integrated Backup solutions
Follow On Courses