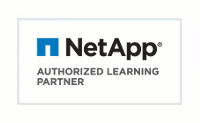 Data ONTAP 7-Mode Fundamentals
This course is a free web-based training offering by NetApp. If you would like access to this free course, please click here. Once we have received your request, a Fast Lane account manager will reach out to you with the access code and instructions to begin your free training.
Product Description
The Data ONTAP® 7-Mode Fundamentals course is for anyone who performs basic support and administrative functions on a NetApp storage system that runs the Data ONTAP 7-Mode operating system. This course supports Data ONTAP 7.3 through Data ONTAP 8.2, the next-generation data storage operating system from NetApp®. Through scenario-based lectures and demonstrations, you learn the features and functions of 7-Mode and perform basic system administration tasks to manage and protect data on a NetApp storage system.
Course Objectives
Explain the basic features and functions of the Data ONTAP 7-Mode operating system
Describe how WAFL file system processes read and write requests
Identify basic hardware components, such as storage controllers, storage shelves, and network switches
Connect to NetApp storage system using System Manager and command-line interface
Perform basic system administration tasks to manage and protect data
Use message logging and NetApp support features to maintain a NetApp storage system