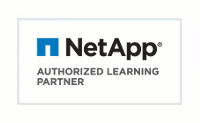 ONTAP Data Management Fundamentals
This course is a free web-based training offering by NetApp. If you would like access to this free course, please click here. Once we have received your request, a Fast Lane account manager will reach out to you with the access code and instructions to begin your free training.
Product Description
This web-based course describes the NetApp® data management products and how they are used to manage systems that run NetApp ONTAP® 9 data management software. The course examines the architecture and functionality of data management products, including the NetApp OnCommand® portfolio and NetApp SnapCenter® software. The course also examines foundational data management concepts and common tasks that are performed by using the various data management products. The common tasks include provisioning, monitoring, and protecting data on storage systems that run ONTAP software. The ONTAP Data Management Fundamentals course was written for storage administrators with a working knowledge of ONTAP software.
Prerequisites
A working knowledge of ONTAP 9 software
Course Objectives
Describe the features and benefits of the OnCommand portfolio products and SnapCenter software
List the resources, consumers, and administrators that are commonly managed
Identify which data management products are used to perform provisioning, monitoring, and data protection tasks
Explain how data and data management products are managed by using third-party integrations