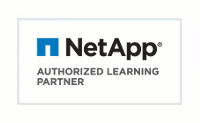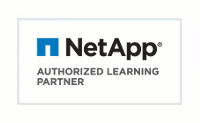 NetApp Portfolio: Exploring SAN Architectures and Configurations (SANARCH)
Course Content
The Exploring SAN Architectures and Configurations course is a 2 day Instructor-led class where you learn how to differentiate between the SAN architectures in the NetApp portfolio:
FAS and All Flash FAS (AFF) systems with the clustered Data ONTAP operating system
E-Series and EF-Series systems with the SANtricity operating system
Who should attend
Systems Engineer (SE), Customer
Prerequisites
NetApp Core Technical Training or equivalent knowledge
Basic knowledge of Data ONTAP OS
Basic knowledge of SANtricity OS
Basic knowledge of Mars OS
Course Objectives
By the end of this course, you will be able to:
Describe the NetApp SAN platforms: FAS, AFF, E-Series, and EF‑Series storage systems
Describe the NetApp storage architectures: Data ONTAP and SANtricity operating systems
Differentiate between the NetApp clustered Data ONTAP and SANtricity operating systems
Configure the Data ONTAP and SANtricity operating systems
Select the best systems and solution for an application or workload
Follow On Courses
Outline: NetApp Portfolio: Exploring SAN Architectures and Configurations (SANARCH)
Module 1: NetApp SAN Architectures
Define the NAS and SAN protocols
Explain the different SAN terms
Explain the NetApp hybrid SAN portfolio
Explain the NetApp ALL-Flash SAN portfolio
Module 2: NetApp Storage Architectures
Explain the Data ONTAP storage architecture
Explain the SANtricity storage architecture
Analyze performance
Explain data management
Explain data protection
Module 3: FAS with Data ONTAP
Explain FAS Architecture
Explain FAS failover and failback
Explain Data ONTAP software
Explain Data ONTAP features
Explain Data ONTAP protection features
Module 4: Data ONTAP Implementation
Use Data ONTAP to implement a SAN on FAS
Simulate ONTAP 8
Module 5: E-Series with SANtricity
Define E-Series architecture
Explain E-Series failover and failback
Explain SANtricity software
Explain SANtricity features
Explain SANtricity protection features
Module 6: SANtricity Implementation
Use SANtricity to implement a SAN on E-Series
Simulate SANtricity storage manager
Module 7: NetApp SAN Solutions
Explain the NetApp portfolio
Explain how to choose a system
Explain system sizing
Appendix A: Flexarray Virtualization Software and V-Series
Explain Flexarray storage virtualization software
Explain Storage arrays
Explain supported topologies
Pre-installation planning
System deployment
Appendix B: SAN Data Migration
Describe data migration
Explain the 7-Mode transition tool
Import foreign LUN
LABS
EXERCISE 1: USING THE INTEROPERABILITY MATRIX TOOL
Use the IMT to verify support for FAS controllers
Use the IMT to verify support for E-Series controllers
Save results from the IMT
EXERCISE 2: EXERCISE ENVIRONMENT
Identify the exercise environment
Log in to the exercise environment
EXERCISE 3: CLUSTERED DATA ONTAP 8.3 ISCSI IMPLEMENTATION
Verify that the Microsoft device-specific module (DSM) is configured correctly
Verify the configuration of an iSCSI software initiator
Use NetApp OnCommand System Manager to prepare a cluster for a storage virtual machine (SVM)
Use System Manager to create an SVM for iSCSI and an iSCSI-attached LUN for Windows Server
Configure the iSCSI software initiator
Use an iSCSI-attached LUN in Windows
EXERCISE 4: SANTRICITY STORAGE MANAGER
Launch the SANtricity Storage Manager simulator
Navigate the Enterprise Management and Array Management windows
Create a RAID 6 volume group
Create a volume in a volume group
Assign a hot spare disk
Create a disk pool
Create a volume in a disk pool
Change volume settings
Define a host
EXERCISE 5: NETAPP SALES SCENARIOS
you should be able to provide guidance to a sales representative.
Classroom Training
Duration 2 days
Price
United States:

US$ 1,800

NetApp Training Units:

24 NTU




NTU's may not have the same redemption value if used in a country other than where they were purchased.
Click City Name To Book
Schedule
This is an Instructor-Led Classroom course
This class will become guaranteed to run with one more student registration.
This is an Instructor-Led Online (ILO) course. These sessions are conducted via WebEx in a VoIP environment and require an Internet Connection and headset with microphone connected to your computer or laptop.
Europe
Latin America
Brazil
May 14-15, 2020

Online Training

Time zone: America/Sao_Paulo

Enroll

Jul 9-10, 2020

Online Training

Time zone: America/Sao_Paulo

Enroll

Nov 5-6, 2020

Online Training

Time zone: America/Sao_Paulo

Enroll