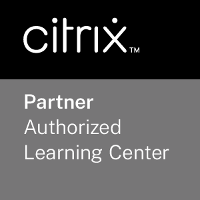 Citrix (NetScaler) ADC 12.x Essentials and Traffic Management (CNS-220)
Course Overview
Please note: This course replaces CNS2201 'Citrix NetScaler Essentials and Traffic Management' Build your NetScaler knowledge and skills by enrolling in this five-day course. It covers NetScaler essentials-- platforms, architecture, licensing and functionality – and also focuses on traffic management, including content switching, traffic optimization and global server load balancing (GSLB). You will learn about key NetScaler capabilities such as high availability, security and performance, and explore SSL offload, load balancing and monitoring. The traffic management curriculum will cover AppExpert policy engines, the Rewrite and Responder features, content switching, and Security Insight. The course is designed for IT professionals with little or no NetScaler experience.
Who should attend
Built for IT Professionals working with NetScaler, with little to no previous NetScaler experience. Potential students include administrators, engineers, and architects interested in learning how to implement and manage NetScaler features using leading practices.
Citrix Versions Covered: This course is currently on NetScaler version 12, but still applies to all previous versions.
Certification:
Citrix Certified Associate – Networking CNS
Prerequisites
Citrix course materials are only available to delegates in e-courseware format. Delegates will be provided with instructions on how to access their e-courseware on day one of the event. Those delegates who are attending via either virtual or extended classroom will be required to provide either three monitors (to view courseware, labs and instructor demos simultaneously) or two monitors and a mobile device. Delegates will be required to have an active TCC (Training.Citrix.com) account in order to access course materials and labs.
Please set up Your TCC account up in advance of the course using the following link:
https://www.citrix.com/welcome/create-account/create-account-form.html
Please note: It is highly recommended that the delegate uses a personal email address (rather than company email) to set up their TCC account. If you do not wish to reference your company name when setting up your TCC account we recommend you use 'EDUCALC' as reference.
Should you encounter any issues in setting up your TCC account please ensure that you raise this directly with Citrix in advance of your event by visiting http://training.citrix.com then on the home page click, Help, then select Classroom Support, and submit a Critical or High priority request notifying Citrix of the course start date.
Technical Prerequisites
Citrix recommends students prepare for this course by taking the following course: CNS-102 NetScaler Overview
Course Objectives
What you'll learn:
Understand the functionalities and capabilities of Citrix NetScaler
How to obtain, install, and manage NetScaler licenses
Comprehend basic NetScaler network architecture
Understand how SSL is used to secure the NetScaler
Optimize the NetScaler system for traffic handling and management
Customize the NetScaler system for traffic flow and content-specific requirements
Employ recommended tools and techniques to troubleshoot common NetScaler network and connectivity issues
Configure advanced load balancing and explore the new GSLB wizard on the NetScaler system
Identify the functionality and characteristics of the NetScaler CPX platform
Outline: Citrix (NetScaler) ADC 12.x Essentials and Traffic Management (CNS-220)
Module 1: Getting Started
Introduction to NetScaler
Feature and Platform Overview
Deployment Options
Architectural Overview
Setup and Management
Module 2: Basic Networking
Networking Topology
NetScaler Components
Routing
Access Control Lists
Module 3: NetScaler Platforms
NetScaler MPX
NetScaler VPX
NetScaler CPX
NetScaler SDX
Module 4: High Availability
NetScaler High Availability
High Availability Configuration
Managing High Availability
Troubleshooting High Availability
Module 5: Load Balancing
Load Balancing Overview
Load Balancing Methods and Monitors
Load Balancing Traffic Types
Load Balancing Protection
Load Balancing Troubleshooting
Module 6: SSL Offload
SSL Overview
SSL Configuration
SSL Offload
Troubleshooting SSL Offload
SSL Vulnerabilities and Protections
Module 7: Securing the NetScaler
Authentication, Authorization, and Auditing
Configuring External Authentication
Admin Partitions
Module 8: Troubleshooting
NetScaler Logging
Monitoring with SNMP
Reporting and Diagnostics
AppFlow Functions
NetScaler Management and Analytics System (MAS)
Troubleshooting
Module 9: Classic Policies
Policy Overview
Basics of Content Filtering
Module 10: Default Policies
Default Policy Overview
Default Expression Syntax
Policy Bindings
AppExpert Additional Features
Module 11: Rewrite, Responder, and URL Transformation
Rewrite Policies
Responder Policies
DNS Rewrite and Responder
URL Transformation
Module 12: Content Switching
Content Switching Overview
Content Switching Configuration
Module 13: Optimization
NetScaler Optimization Overview
HTTP Compression
Integrated Caching
Front-End Optimization
Module 14: Global Server Load Balancing
GSLB Overview
GSLB Architecture
Content-Switching GSLB
GSLB MEP and Monitoring
Customizing GSLB
Module 15: Clustering
NetScaler Clustering Overview
NetScaler Cluster Configuration
Online Training
Duration 5 days
Price
Classroom Training
Duration 5 days
Price
Click City Name To Book
Schedule
This is an Instructor-Led Classroom course
This green checkmark in the Upcoming Schedule below indicates that this session is Guaranteed to Run.
This is an Instructor-Led Online (ILO) course. These sessions are conducted via WebEx in a VoIP environment and require an Internet Connection and headset with microphone connected to your computer or laptop.
This is a FLEX course, which is delivered simultaneously in two modalities. Choose to attend the Instructor-Led Online (ILO) virtual session or Instructor-Led Classroom (ILT) session.
* This class is delivered by a partner.
United States
Currently there are no training dates scheduled for this course. You can schedule a private, onsite training session or request a public date by emailing info@fastlaneus.com.
Europe
Croatia
Nov 9-13, 2020

Online Training

Time zone: Europe/Zagreb

Course language:

English

Enroll
France
Aug 24-28, 2020

This is a FLEX course.

Guaranteed to Run

Paris

*

Enroll

Online Training

Time zone: Europe/Paris

Enroll

Oct 12-16, 2020

Paris

*

Enroll

Dec 7-11, 2020

Paris

*

Enroll
Netherlands
Oct 5-9, 2020

This is a FLEX course.

Utrecht

Course language:

English

Enroll

Online Training

Time zone: Europe/Amsterdam

Enroll

Dec 7-11, 2020

This is a FLEX course.

Utrecht

Course language:

English

Enroll

Online Training

Time zone: Europe/Amsterdam

Enroll
Romania
Sep 7-11, 2020

Online Training

Time zone: Europe/Bucharest

Course language:

English

Enroll
Switzerland