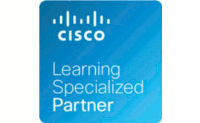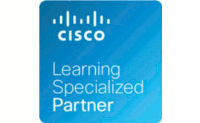 Applying Cisco Specialized Business Value Analysis Skills (BTASBVA)
Cisco announces the retirement of Cisco Business Value Analyst and Cisco Business Value Specialist certifications. The last day to test for these certifications is December 29, 2017.
This course is being replaced with the Applying Cisco Business Architecture Discipline (CI-DTBAS)
The new certification path: Cisco Business Architecture Specialists
Valid Cisco Business Architecture Analyst certification
Required Exam - 820-445 DTBAS
About this Course
IT industry sales and services professionals encounter customers who accept that major changes in business models, operating processes or technology may be required to greatly improve results. This course provides training on frameworks and techniques useful for diagnosing customer pain points and opportunities, defining solutions to these challenges and gaining customer buy-in for adoption on a broad scale.
This course consists of both self-paced e-learning (ELT) and ILT components. There is a preparatory ELT course that provides an overview of outcome-based selling and provides additional knowledge and resources prior to taking the ILT version. There is post-ELT course that summarizes the learning and activities from the ILT and provides additional information for successful outcome-based selling. The ELT will also be accessed during the ILT for additional references, case studies, and templates.
Topics covered include:
Understanding customer strategies, competitive position and history with IT-enabled change
Depicting key elements of a customer's strategy and business model
Discovering and conveying an understanding of customer pain points and opportunities, as a way to enhance credibility
Describing the business relevance of Cisco Architectures and Smart Solutions
Refining customer needs and creating high-level, business-focused IT solution designs
Preparing a business case that shows investment, costs, benefits and risks
Composing an initiative / project roadmap and describing its key success factors
Demonstrating how Cisco products, solutions and services provide unique value, in context of the architecture lifecycle and customer conversation framework
Who should attend
Cisco and Cisco Channel Partner Sales individuals looking to improve their ability to sell Cisco Solutions by understanding the Business requirements of customers undergoing IT transformation.
Class Prerequisites
What You Will Learn
Apply research and customer information to prepare an outcome-based selling strategy
Apply Cisco business outcome selling approach from market awareness to solution tracking
Interpret a customer business context
Determine desired customer outcomes
Determine a baseline for measuring improvements
Outline a plan for managing IT and Line of Business (LoB) stakeholders across various Cisco sales paths
Demonstrate how KPIs and outcome metrics show in financials across two year Cisco Services consumption
Prepare an implementation strategy and roadmap for outcome-based selling that involves services, network technology, and industry-focused analytics
Explain how a structured communications planning approach enables improved results from complex outcomes-based selling interactions
Follow On Courses
Outline: Applying Cisco Specialized Business Value Analysis Skills (BTASBVA)
Technology Sales: Context for Success
Markets and Customer Buying Trends
Sales Approaches: Choices and Impacts
Solution- and Outcome-Based Selling: Pictures of Success
The Cisco Approach to Outcome-Based Selling
Know the Customer
Industry Background and Customer Baseline
Business and Technology Strategies
Stakeholders and Their Approach to Decision Making and Management
Business Model, Operations, and Value Creation
Communication and Negotiation
Build the Sales Opportunity
Understanding the Desired Customer Outcomes
Quantify the Target Results
Enabling Outcomes with Cisco Solutions and Services
Cisco Solutions and Services
Risks and Mitigation for Outcome-Based Selling
Financial Considerations and Metrics for Outcomes
Financial Aspects of Outcomes
Case Study: Articulate Financial Considerations and KPIs
Organizational Change and Adoption
Pilot and Prototype Approaches in Outcome-Based Selling
Organizational Change and Adoption Considerations
Case Study: Organizational Change and Adoption
Managing the Post-Sales Process
Cisco Enablement Resources
Post-Sales Opportunities
Case Study: Identify Post-Sales Opportunities
Wrap Up and Next Steps
Classroom Training
Duration 2 days
Price
United States:

US$ 2,795

Cisco Learning Credits:

28 CLC
Enroll now
Online Training
Duration 2 days
Price
United States:

US$ 2,795

Cisco Learning Credits:

28 CLC
Enroll now
Click City Name To Book
Schedule
This is an Instructor-Led Classroom course
This is an Instructor-Led Online (ILO) course. These sessions are conducted via WebEx in a VoIP environment and require an Internet Connection and headset with microphone connected to your computer or laptop.
This is a FLEX course, which is delivered simultaneously in two modalities. Choose to attend the Instructor-Led Online (ILO) virtual session or Instructor-Led Classroom (ILT) session.
Europe
Germany
Austria
| | | | |
| --- | --- | --- | --- |
| | Jan 23-24, 2018 | Vienna (iTLS) | Enroll |
| | Mar 26-27, 2018 | Vienna (iTLS) | Enroll |
| | Jun 26-27, 2018 | Vienna (iTLS) | Enroll |
| | Oct 9-10, 2018 | Vienna (iTLS) | Enroll |
Slovenia
Nov 28-29, 2017

This is a FLEX event

Ljubljana

Course language: English

Enroll

Online Training

Time zone: Europe/Ljubljana

Enroll
Middle East
Saudi Arabia
Nov 1-2, 2017

Riyadh

Course language: English

Enroll