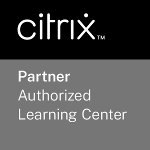 Citrix Certified Professional - Networking (CCP-N)
The Citrix Certified Professional - Networking (CCP-N) was designed for Network Engineers, this certification validates the knowledge and skills needed to implement, manage and optimize Citrix NetScaler 10 for networking performance and optimization. Passing this exam means a candidate demonstrated the minimum level of knowledge and skills required to install, configure and/or operate NetScaler 10 in enterprise environments.
If you have a networking background and are looking to develop core networking skills, the CCP-N is an ideal starting point. If you have a CCA for NetScaler 9 or earlier certification, pursue the CCP-N to stay current. Individuals with a CCA for NetScaler 10 will also be awarded a CCP-N.
Prerequisites
Note: The CCA-N is not a prerequisite requirement for the CCP-N
Recommended training for this certification
Recertification
Networking certifications are valid for three years from the date you obtain the certification. New exams will release during this time. To maintain your certification, you must pass the latest exam at your certification level before your three-year expiration date.