Fast Lane FLEX™ Classroom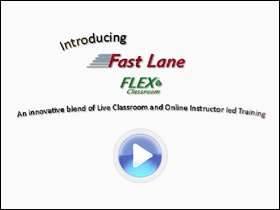 Fast Lane created the FLEX™ Classroom to provide a high-quality training option for those that aren't able to attend our ILT sessions in person. Our FLEX™ sessions deliver a world class learning experience to students in the actual classroom and students attending via our ILO solution.
With FLEX™ Classroom, – choose to attend via the Internet or attend the class in-person. Either way, your experience will be equally as effective – we guarantee it!
Some of the key features of our FLEX™ Classroom are:
Instructor-Led Training
Hands-on labs
Voice and video for remote students to interact with the Instructor and local students
Break out rooms that include both remote and local students
Electronic whiteboard for Instructor notes
VoIP or conference bridge audio
Low bandwidth requirements for remote students
Benefits of Fast Lane's FLEX™ Classroom:
More sessions to choose from that are Guaranteed-to-Run™
Another option to help achieve your training objectives
Reduced carbon footprint for our remote students
No travel requirements for our remote students
Remote students can attend from home, work or wherever they can get the appropriate bandwidth
Check out the schedule of FLEX™ classes below, and click on the city name to the right of the course date to begin the registration process, or click on the course name for more information.
This is a
FLEX
course, which is delivered in two modalities. Choose to attend the Instructor-Led Online (ILO) virtual session or Instructor-Led Classroom (ILT) session. If you have any questions regarding these sessions, please contact Fast Lane at 919.674.3100.
This green checkmark in the Upcoming Schedule below indicates that this date/time is Guaranteed To Run in accordance with Fast Lane's terms and conditions.
* This class is delivered by a partner.



Click City Name To Book.

Cisco



April 28 week

CI-SISE
Implementing and Configuring Cisco Identity Services Engine (Version 1.1)

This is a FLEX course.

Course language: English

Apr 28-May 2, 2014
Raleigh/Durham, NC
Enroll for classroom training
Enroll for online training


Time zone: US/Eastern




May 12 week

CI-CUWN
Cisco Unified Wireless Networking v7.2

This is a FLEX course.

Course language: English

May 12-16, 2014
New York, NY
Enroll for classroom training
Enroll for online training


Time zone: US/Eastern

CI-DCNX5K
Configuring Cisco Nexus 5000 Switches

This is a FLEX course.

Course language: English

May 12-16, 2014
Toronto, ON
Enroll for classroom training
Enroll for online training


Time zone: Canada/Eastern

CI-DCNX5K
Configuring Cisco Nexus 5000 Switches

This is a FLEX course.

Course language: English

May 12-16, 2014
Herndon/Reston, VA
Enroll for classroom training
Enroll for online training


Time zone: US/Eastern

CI-SENSS
Implementing Cisco Edge Network Security Solutions

This is a FLEX course.

Course language: English

May 12-16, 2014
Raleigh/Durham, NC
Enroll for classroom training
Enroll for online training


Time zone: US/Eastern

CI-SWITCH
Implementing Cisco IP Switched Networks

This is a FLEX course.

Course language: English

May 12-16, 2014
Dallas, TX
Enroll for classroom training
Enroll for online training


Time zone: US/Central

CI-SITCS
Implementing Cisco Threat Control Solutions

This is a FLEX course.

Course language: English

May 12-16, 2014
Toronto, ON
Enroll for classroom training
Enroll for online training


Time zone: Canada/Eastern

CI-IUWMS
Implementing Cisco Unified Wireless Mobility Services Version 2.0

This is a FLEX course.

Course language: English

May 12-16, 2014
Dallas, TX
Enroll for classroom training
Enroll for online training


Time zone: US/Central

CI-ICND1
Interconnecting Cisco Network Devices Part 1, Version 2.0

This is a FLEX course.

Course language: English

May 12-16, 2014
Toronto, ON
Enroll for classroom training
Enroll for online training


Time zone: Canada/Eastern




May 19 week

CI-IAUWS
Implementing Advanced Cisco Unified Wireless Security Version 2.0

This is a FLEX course.

Course language: English

May 19-23, 2014
Raleigh/Durham, NC
Enroll for classroom training
Enroll for online training


Time zone: US/Eastern

CI-SIMOS
Implementing Cisco Secure Mobility Solutions

This is a FLEX course.

Course language: English

May 19-23, 2014
Raleigh/Durham, NC
Enroll for classroom training
Enroll for online training


Time zone: US/Eastern

CI-ICND2
Interconnecting Cisco Network Devices Part 2, Version 2.0

This is a FLEX course.

Course language: English

May 25-29, 2014
Toronto, ON
Enroll for classroom training
Enroll for online training


Time zone: Canada/Eastern

CI-CCNAX
Interconnecting Cisco Networking Devices: Accelerated v2.0

This is a FLEX course.

Course language: English

May 19-23, 2014
Sunnyvale/San Jose, CA
Enroll for classroom training
Enroll for online training


Time zone: US/Pacific

CI-TSHOOT
Troubleshooting and Maintaining Cisco IP Networks

This is a FLEX course.

Course language: English

May 19-23, 2014
New York, NY
Enroll for classroom training
Enroll for online training


Time zone: US/Eastern




May 26 week

FL-ADFPD
Architecture and Design of FlexPod Datacenter

This is a FLEX course.

Course language: English

May 26-27, 2014
Toronto, ON
Enroll for classroom training
Enroll for online training


Time zone: Canada/Eastern

FL-BE6KIA
Cisco Business Edition 6000/7000 v10.x Implementation and Administration

This is a FLEX course.

Course language: English

May 28-30, 2014
Atlanta, GA
Enroll for classroom training
Enroll for online training


Time zone: US/Eastern

FL-BE6KIA
Cisco Business Edition 6000/7000 v10.x Implementation and Administration

This is a FLEX course.

Course language: English

May 28-30, 2014
Toronto, ON
Enroll for classroom training
Enroll for online training


Time zone: Canada/Eastern

CI-PRIMEOPTICAL
Cisco Prime Optical Operation & Maintenance (version 9.3)

This is a FLEX course.

Course language: English

May 26-27, 2014
Toronto, ON
Enroll for classroom training
Enroll for online training


Time zone: Canada/Eastern

FL-FPI
FlexPod Implementation

This is a FLEX course.

Course language: English

May 28-30, 2014
Toronto, ON
Enroll for classroom training
Enroll for online training


Time zone: Canada/Eastern

CI-SASAA
Implementing Advanced Cisco ASA Security

This is a FLEX course.

Course language: English

May 26-30, 2014
Toronto, ON
Enroll for classroom training
Enroll for online training


Time zone: Canada/Eastern

CI-WMUAPI
Managing Unified Access Networks with Cisco Prime Infrastructure 2.0

This is a FLEX course.

Course language: English

May 28-30, 2014
Sunnyvale/San Jose, CA
Enroll for classroom training
Enroll for online training


Time zone: US/Pacific




June 02 week

CI-SISE
Implementing and Configuring Cisco Identity Services Engine (Version 1.1)

This is a FLEX course.

Course language: English

Jun 2-6, 2014
Chicago, IL
Enroll for classroom training
Enroll for online training


Time zone: US/Central

CI-ROUTE
Implementing Cisco IP Routing

This is a FLEX course.

Course language: English

Jun 2-6, 2014
Atlanta, GA
Enroll for classroom training
Enroll for online training


Time zone: US/Eastern

CI-ROUTE
Implementing Cisco IP Routing

This is a FLEX course.

Course language: English

Jun 2-6, 2014
Toronto, ON
Enroll for classroom training
Enroll for online training


Time zone: Canada/Eastern

CI-IUWNE
Implementing Cisco Unified Wireless Networking Essentials Version 2.0

This is a FLEX course.

Course language: English

Jun 2-6, 2014
Atlanta, GA
Enroll for classroom training
Enroll for online training


Time zone: US/Eastern

CI-ICND1
Interconnecting Cisco Network Devices Part 1, Version 2.0

This is a FLEX course.

Course language: English

Jun 2-6, 2014
Raleigh/Durham, NC
Enroll for classroom training
Enroll for online training


Time zone: US/Eastern

CI-CCNAX
Interconnecting Cisco Networking Devices: Accelerated v2.0

This is a FLEX course.

Course language: English

Jun 2-6, 2014
Tampa, FL
Enroll for classroom training
Enroll for online training


Time zone: US/Eastern

CI-CCNAX
Interconnecting Cisco Networking Devices: Accelerated v2.0

This is a FLEX course.

Course language: English

Jun 2-6, 2014
Toronto, ON
Enroll for classroom training
Enroll for online training


Time zone: Canada/Eastern

CI-WMNGI
Managing Cisco Wireless LANs (Version 1.2)

This is a FLEX course.

Course language: English

Jun 2-5, 2014
Raleigh/Durham, NC
Enroll for classroom training
Enroll for online training


Time zone: US/Eastern




June 09 week

FL-ASA
Cisco ASA 9.1 Update Workshop

This is a FLEX course.

Course language: English

Jun 12-13, 2014
Herndon/Reston, VA
Enroll for classroom training
Enroll for online training


Time zone: US/Eastern

FL-ASA
Cisco ASA 9.1 Update Workshop

This is a FLEX course.

Course language: English

Jun 12-13, 2014
Toronto, ON
Enroll for classroom training
Enroll for online training


Time zone: Canada/Eastern

CI-CUWN
Cisco Unified Wireless Networking v7.2

This is a FLEX course.

Course language: English

Jun 9-13, 2014
Sunnyvale/San Jose, CA
Enroll for classroom training
Enroll for online training


Time zone: US/Pacific

CI-DCNX5K
Configuring Cisco Nexus 5000 Switches

This is a FLEX course.

Course language: English

Jun 9-13, 2014
Chicago, IL
Enroll for classroom training
Enroll for online training


Time zone: US/Central

CI-SWITCH
Implementing Cisco IP Switched Networks

This is a FLEX course.

Course language: English

Jun 9-13, 2014
Toronto, ON
Enroll for classroom training
Enroll for online training


Time zone: Canada/Eastern

CI-SWITCH
Implementing Cisco IP Switched Networks

This is a FLEX course.

Course language: English

Jun 9-13, 2014
Herndon/Reston, VA
Enroll for classroom training
Enroll for online training


Time zone: US/Eastern

CI-SISAS
Implementing Cisco Secure Access Solutions

This is a FLEX course.

Course language: English

Jun 9-13, 2014
Herndon/Reston, VA
Enroll for classroom training
Enroll for online training


Time zone: US/Eastern

CI-IUWMS
Implementing Cisco Unified Wireless Mobility Services Version 2.0

This is a FLEX course.

Course language: English

Jun 9-13, 2014
Sunnyvale/San Jose, CA
Enroll for classroom training
Enroll for online training


Time zone: US/Pacific

CI-ICND2
Interconnecting Cisco Network Devices Part 2, Version 2.0

This is a FLEX course.

Course language: English

Jun 9-13, 2014
Sunnyvale/San Jose, CA
Enroll for classroom training
Enroll for online training


Time zone: US/Pacific




June 16 week

CI-DCUFD
Designing Cisco Data Center Unified Fabric

This is a FLEX course.

Course language: English

Jun 16-20, 2014
Toronto, ON
Enroll for classroom training
Enroll for online training


Time zone: Canada/Eastern

CI-SASAA
Implementing Advanced Cisco ASA Security

This is a FLEX course.

Course language: English

Jun 16-20, 2014
Dallas, TX
Enroll for classroom training
Enroll for online training


Time zone: US/Central

CI-IAUWS
Implementing Advanced Cisco Unified Wireless Security Version 2.0

This is a FLEX course.

Course language: English

Jun 16-20, 2014
Chicago, IL
Enroll for classroom training
Enroll for online training


Time zone: US/Central

CI-SENSS
Implementing Cisco Edge Network Security Solutions

This is a FLEX course.

Course language: English

Jun 16-20, 2014
Chicago, IL
Enroll for classroom training
Enroll for online training


Time zone: US/Central

CI-DCMDS
Implementing Cisco MDS

This is a FLEX course.

Course language: English

Jun 16-20, 2014
Sunnyvale/San Jose, CA
Enroll for classroom training
Enroll for online training


Time zone: US/Pacific

CI-MCAST
Implementing Cisco Multicast (V 2.0)

This is a FLEX course.

Course language: English

Jun 16-20, 2014
Toronto, ON
Enroll for classroom training
Enroll for online training


Time zone: Canada/Eastern

CI-IUWNE
Implementing Cisco Unified Wireless Networking Essentials Version 2.0

This is a FLEX course.

Course language: English

Jun 16-20, 2014
Toronto, ON
Enroll for classroom training
Enroll for online training


Time zone: Canada/Eastern

CI-ICND1
Interconnecting Cisco Network Devices Part 1, Version 2.0

This is a FLEX course.

Course language: English

Jun 16-20, 2014
Dallas, TX
Enroll for classroom training
Enroll for online training


Time zone: US/Central

CI-CCNAX
Interconnecting Cisco Networking Devices: Accelerated v2.0

This is a FLEX course.

Course language: French

Jun 16-20, 2014
Montreal, QC
Enroll for classroom training
Enroll for online training


Time zone: Canada/Eastern

CI-TSHOOT
Troubleshooting and Maintaining Cisco IP Networks

This is a FLEX course.

Course language: English

Jun 16-20, 2014
Sunnyvale/San Jose, CA
Enroll for classroom training
Enroll for online training


Time zone: US/Pacific




NetApp




April 21 week

NA-DCADM
Clustered Data ONTAP 8.2 Administration

This is a FLEX course.

Course language: English

Apr 21-25, 2014
Cleveland, OH
Enroll for classroom training
Enroll for online training


Time zone: US/Eastern

NA-DCADM
Clustered Data ONTAP 8.2 Administration

This is a FLEX course.

Course language: English

Apr 21-25, 2014
Los Angeles/El Segundo, CA
Enroll for classroom training
Enroll for online training


Time zone: US/Pacific

NA-D7ADM
Data ONTAP 7-Mode Administration

This is a FLEX course.

Course language: English

Apr 21-25, 2014
Sunnyvale/San Jose, CA
Enroll for classroom training
Enroll for online training


Time zone: US/Pacific




April 28 week

NA-BNCA
Basic NetApp Configuration and Administration

This is a FLEX course.

Course language: English

Apr 28-29, 2014
Vancouver, BC
Enroll for classroom training
Enroll for online training


Time zone: Canada/Pacific

NA-DCADM
Clustered Data ONTAP 8.2 Administration

This is a FLEX course.

Course language: English

Apr 28-May 2, 2014
Toronto, ON
Enroll for classroom training
Enroll for online training


Time zone: Canada/Eastern




May 05 week

NA-ANCDABC87
Accelerated NCDA Boot Camp Data ONTAP 7-Mode

This is a FLEX course.

Course language: English

May 5-9, 2014
San Diego, CA
Enroll for classroom training
Enroll for online training


Time zone: US/Pacific

NA-DCADM
Clustered Data ONTAP 8.2 Administration

This is a FLEX course.

Course language: English

May 5-9, 2014
Chicago, IL
Enroll for classroom training
Enroll for online training


Time zone: US/Central

NA-DCADM
Clustered Data ONTAP 8.2 Administration

This is a FLEX course.

Course language: English

May 5-9, 2014
Reston, VA
Enroll for classroom training
Enroll for online training


Time zone: US/Eastern

NA-D7ADM
Data ONTAP 7-Mode Administration

This is a FLEX course.

Course language: English

May 5-9, 2014
Virtual class
Enroll for classroom training
Enroll for online training


Time zone: US/Central

FL-VVNA
VMware vSphere on NetApp

This is a FLEX course.

Course language: English

May 5-9, 2014
Virtual class
Enroll for classroom training
Enroll for online training


Time zone: US/Pacific




May 12 week

NA-ANCDABC87
Accelerated NCDA Boot Camp Data ONTAP 7-Mode

This is a FLEX course.

Course language: English

May 12-16, 2014
Raleigh/Durham, NC
Enroll for classroom training
Enroll for online training


Time zone: US/Eastern

NA-ANCDABC87
Accelerated NCDA Boot Camp Data ONTAP 7-Mode

This is a FLEX course.

Course language: English

May 12-16, 2014
Chicago, IL
Enroll for classroom training
Enroll for online training


Time zone: US/Central

NA-BNCA
Basic NetApp Configuration and Administration

This is a FLEX course.

Course language: French

May 12-13, 2014
Montreal, QC
Enroll for classroom training
Enroll for online training


Time zone: Canada/Eastern

NA-DCADM
Clustered Data ONTAP 8.2 Administration

This is a FLEX course.

Course language: English

May 12-16, 2014
Dallas, TX
Enroll for classroom training
Enroll for online training


Time zone: US/Central

NA-DCADM
Clustered Data ONTAP 8.2 Administration

This is a FLEX course.

Course language: English

May 12-16, 2014
Raleigh/Durham, NC
Enroll for classroom training
Enroll for online training


Time zone: US/Eastern

NA-DCADM
Clustered Data ONTAP 8.2 Administration

This is a FLEX course.

Course language: English

May 12-16, 2014
Vancouver, BC
Enroll for classroom training
Enroll for online training


Time zone: Canada/Pacific

NA-DCADM
Clustered Data ONTAP 8.2 Administration

This is a FLEX course.

Course language: English

May 12-16, 2014
Irvine, CA
Enroll for classroom training
Enroll for online training


Time zone: US/Pacific

NA-D7ADM
Data ONTAP 7-Mode Administration

This is a FLEX course.

Course language: English

May 12-16, 2014
Minneapolis, MN
Enroll for classroom training
Enroll for online training


Time zone: US/Central

NA-D7ADM
Data ONTAP 7-Mode Administration

This is a FLEX course.

Course language: English

May 12-16, 2014
Nashville, TN
Enroll for classroom training
Enroll for online training


Time zone: US/Central




May 19 week

NA-ANCDABC87
Accelerated NCDA Boot Camp Data ONTAP 7-Mode

This is a FLEX course.

Course language: English

May 19-23, 2014
Seattle, WA
Enroll for classroom training
Enroll for online training


Time zone: US/Pacific

NA-SANARCH
Architecting SAN on NetApp Storage

This is a FLEX course.

Course language: English

May 19-20, 2014
Sunnyvale/San Jose, CA
Enroll for classroom training
Enroll for online training


Time zone: US/Pacific

NA-DCADM
Clustered Data ONTAP 8.2 Administration

This is a FLEX course.

Course language: English

May 19-23, 2014
Columbia, MD
Enroll for classroom training
Enroll for online training


Time zone: US/Eastern

NA-DCADM
Clustered Data ONTAP 8.2 Administration

This is a FLEX course.

Course language: English

May 19-23, 2014
Atlanta, GA
Enroll for classroom training
Enroll for online training


Time zone: US/Eastern

NA-D7ADM
Data ONTAP 7-Mode Administration

This is a FLEX course.

Course language: English

May 19-23, 2014
Philadelphia, PA
Enroll for classroom training
Enroll for online training


Time zone: US/Eastern

NA-D7ADM
Data ONTAP 7-Mode Administration

This is a FLEX course.

Course language: English

May 19-23, 2014
Atlanta, GA
Enroll for classroom training
Enroll for online training


Time zone: US/Eastern

NA-D7ADM
Data ONTAP 7-Mode Administration

This is a FLEX course.

Course language: English

May 19-23, 2014
Ft. Lauderdale, FL
Enroll for classroom training
Enroll for online training


Time zone: US/Eastern

NA-NASPAD
Managing NAS and Performance on Clustered Data ONTAP

This is a FLEX course.

Course language: English

May 19-23, 2014
Raleigh/Durham, NC
Enroll for classroom training
Enroll for online training


Time zone: US/Eastern

NA-OCADM
NetApp OnCommand Unified Manager Administration

This is a FLEX course.

Course language: English

May 19-22, 2014
Reston, VA
Enroll for classroom training
Enroll for online training


Time zone: US/Eastern

NA-SANIMP
SAN Implementation

This is a FLEX course.

Course language: English

May 21-23, 2014
Sunnyvale/San Jose, CA
Enroll for classroom training
Enroll for online training


Time zone: US/Pacific

FL-VVNA
VMware vSphere on NetApp

This is a FLEX course.

Course language: English

May 19-23, 2014
Sunnyvale/San Jose, CA
Enroll for classroom training
Enroll for online training


Time zone: US/Pacific




May 26 week

NA-ANCDABC87
Accelerated NCDA Boot Camp Data ONTAP 7-Mode

This is a FLEX course.

Course language: English

May 26-30, 2014
Vancouver, BC
Enroll for classroom training
Enroll for online training


Time zone: Canada/Pacific




June 02 week

NA-ANCDABC87
Accelerated NCDA Boot Camp Data ONTAP 7-Mode

This is a FLEX course.

Course language: English

Jun 2-6, 2014
Los Angeles/El Segundo, CA
Enroll for classroom training
Enroll for online training


Time zone: US/Pacific

NA-ANCDABC87
Accelerated NCDA Boot Camp Data ONTAP 7-Mode

This is a FLEX course.

Course language: English

Jun 2-6, 2014
Dallas, TX
Enroll for classroom training
Enroll for online training


Time zone: US/Central

NA-DCADM
Clustered Data ONTAP 8.2 Administration

This is a FLEX course.

Course language: English

Jun 2-6, 2014
New York, NY
Enroll for classroom training
Enroll for online training


Time zone: US/Eastern

NA-DCADM
Clustered Data ONTAP 8.2 Administration

This is a FLEX course.

Course language: English

Jun 2-6, 2014
Portland, OR
Enroll for classroom training
Enroll for online training


Time zone: US/Pacific

NA-DCADM
Clustered Data ONTAP 8.2 Administration

This is a FLEX course.

Course language: English

Jun 2-6, 2014
Tampa, FL
Enroll for classroom training
Enroll for online training


Time zone: US/Eastern

NA-D7ADM
Data ONTAP 7-Mode Administration

This is a FLEX course.

Course language: English

Jun 2-6, 2014
Chicago, IL
Enroll for classroom training
Enroll for online training


Time zone: US/Central

NA-D7ADM
Data ONTAP 7-Mode Administration

This is a FLEX course.

Course language: English

Jun 2-6, 2014
San Diego, CA
Enroll for classroom training
Enroll for online training


Time zone: US/Pacific




June 09 week

NA-ANCDABC87
Accelerated NCDA Boot Camp Data ONTAP 7-Mode

This is a FLEX course.

Course language: English

Jun 9-13, 2014
Ottawa, ON
Enroll for classroom training
Enroll for online training


Time zone: Canada/Eastern

NA-ANCDABC87
Accelerated NCDA Boot Camp Data ONTAP 7-Mode

This is a FLEX course.

Course language: English

Jun 9-13, 2014
Reston, VA
Enroll for classroom training
Enroll for online training


Time zone: US/Eastern

NA-DCADM
Clustered Data ONTAP 8.2 Administration

This is a FLEX course.

Course language: English

Jun 9-13, 2014
Irvine, CA
Enroll for classroom training
Enroll for online training


Time zone: US/Pacific

NA-DCADM
Clustered Data ONTAP 8.2 Administration

This is a FLEX course.

Course language: English

Jun 9-13, 2014
Sunnyvale/San Jose, CA
Enroll for classroom training
Enroll for online training


Time zone: US/Pacific

NA-DCADM
Clustered Data ONTAP 8.2 Administration

This is a FLEX course.

Course language: English

Jun 9-13, 2014
Houston, TX
Enroll for classroom training
Enroll for online training


Time zone: US/Central

NA-D7ADM
Data ONTAP 7-Mode Administration

This is a FLEX course.

Course language: English

Jun 9-13, 2014
Raleigh/Durham, NC
Enroll for classroom training
Enroll for online training


Time zone: US/Eastern

NA-D7ADM
Data ONTAP 7-Mode Administration

This is a FLEX course.

Course language: English

Jun 9-13, 2014
Tempe, AZ
Enroll for classroom training
Enroll for online training


Time zone: US/Arizona

NA-OCIOBP
NetApp OnCommand Insight Operation and Best Practices

This is a FLEX course.

Course language: English

Jun 9-11, 2014
Irvine, CA
Enroll for classroom training
Enroll for online training


Time zone: US/Pacific

NA-PERFCDOT
Performance Analysis on Clustered Data ONTAP

This is a FLEX course.

Course language: English

Jun 12-13, 2014
Irvine, CA
Enroll for classroom training
Enroll for online training


Time zone: US/Pacific

FL-VVNA
VMware vSphere on NetApp

This is a FLEX course.

Course language: English

Jun 9-13, 2014
Chicago, IL
Enroll for classroom training
Enroll for online training


Time zone: US/Central




June 16 week

NA-ANCDABC87
Accelerated NCDA Boot Camp Data ONTAP 7-Mode

This is a FLEX course.

Course language: English

Jun 16-20, 2014
Raleigh/Durham, NC
Enroll for classroom training
Enroll for online training


Time zone: US/Eastern

NA-ANCDABC87
Accelerated NCDA Boot Camp Data ONTAP 7-Mode

This is a FLEX course.

Course language: English

Jun 16-20, 2014
Portland, OR
Enroll for classroom training
Enroll for online training


Time zone: US/Pacific

NA-BNCA
Basic NetApp Configuration and Administration

This is a FLEX course.

Course language: English

Jun 16-17, 2014
Toronto, ON
Enroll for classroom training
Enroll for online training


Time zone: Canada/Eastern

NA-DCADM
Clustered Data ONTAP 8.2 Administration

This is a FLEX course.

Course language: English

Jun 16-20, 2014
Reston, VA
Enroll for classroom training
Enroll for online training


Time zone: US/Eastern

NA-DCADM
Clustered Data ONTAP 8.2 Administration

This is a FLEX course.

Course language: English

Jun 16-20, 2014
San Diego, CA
Enroll for classroom training
Enroll for online training


Time zone: US/Pacific

NA-DCADM
Clustered Data ONTAP 8.2 Administration

This is a FLEX course.

Course language: English

Jun 16-20, 2014
Calgary, AB
Enroll for classroom training
Enroll for online training


Time zone: Canada/Mountain

NA-D7ADM
Data ONTAP 7-Mode Administration

This is a FLEX course.

Course language: English

Jun 16-20, 2014
Columbia, MD
Enroll for classroom training
Enroll for online training


Time zone: US/Eastern

NA-D7ADM
Data ONTAP 7-Mode Administration

This is a FLEX course.

Course language: English

Jun 16-20, 2014
Toronto, ON
Enroll for classroom training
Enroll for online training


Time zone: Canada/Eastern




VMware




April 21 week

VM-VICM
VMware vSphere: Install, Configure, Manage (Version 5.5)

This is a FLEX course.

Course language: English

Apr 21-25, 2014
Jackson, MS
Enroll for classroom training
Enroll for online training


Time zone: US/Central




May 05 week

VM-VVFT
VMware vSphere 5.5: Fast Track

This is a FLEX course.

Course language: English

May 5-9, 2014
Raleigh/Durham, NC
Enroll for classroom training
Enroll for online training


Time zone: US/Eastern




May 12 week

VM-VOS
VMware vSphere 5.5: Optimize and Scale

This is a FLEX course.

Course language: English

May 12-16, 2014
Toronto, ON
Enroll for classroom training
Enroll for online training


Time zone: Canada/Eastern

VM-VOS
VMware vSphere 5.5: Optimize and Scale

This is a FLEX course.

Course language: English

May 12-16, 2014
Herndon/Reston, VA
Enroll for classroom training
Enroll for online training


Time zone: US/Eastern

VM-VOMFT
VMware vSphere with Operations Management: Fast Track

This is a FLEX course.

Course language: English

May 12-16, 2014
Ottawa, ON
Enroll for classroom training
Enroll for online training


Time zone: Canada/Eastern

VM-VICM
VMware vSphere: Install, Configure, Manage (Version 5.5)

This is a FLEX course.

Course language: English

May 12-16, 2014
Appleton, WI
Enroll for classroom training
Enroll for online training


Time zone: US/Central

VM-VICM
VMware vSphere: Install, Configure, Manage (Version 5.5)

This is a FLEX course.

Course language: English

May 12-16, 2014
Arlington
Enroll for classroom training
Enroll for online training


Time zone: US/Eastern




May 19 week

VM-VOMFT
VMware vSphere with Operations Management: Fast Track

This is a FLEX course.

Course language: English

May 19-23, 2014
Herndon/Reston, VA
Enroll for classroom training
Enroll for online training


Time zone: US/Eastern

VM-VICM
VMware vSphere: Install, Configure, Manage (Version 5.5)

This is a FLEX course.

Course language: English

May 19-23, 2014
Tempe, AZ
Enroll for classroom training
Enroll for online training


Time zone: US/Arizona




May 26 week

VM-VHVICM
VMware Horizon View 5.2: Install, Configure, Manage

This is a FLEX course.

Course language: English

May 27-30, 2014
Calgary, AB
Enroll for classroom training
Enroll for online training


Time zone: Canada/Mountain

VM-VSRM
VMware vCenter Site Recovery Manager: Install, Configure, Manage (Version 5.1)

This is a FLEX course.

Course language: English

May 29-30, 2014
Vancouver, BC
Enroll for classroom training
Enroll for online training


Time zone: Canada/Pacific

VM-VICM
VMware vSphere: Install, Configure, Manage (Version 5.5)

This is a FLEX course.

Course language: English

May 26-30, 2014
Ottawa, ON
Enroll for classroom training
Enroll for online training


Time zone: Canada/Eastern




June 02 week

VM-VCOMUD
VMware vCenter Operations Manager: Advanced Usage and Dashboard Design

This is a FLEX course.

Course language: English

Jun 2-4, 2014
Sunnyvale/San Jose, CA
Enroll for classroom training
Enroll for online training


Time zone: US/Pacific

VM-VOMFT
VMware vSphere with Operations Management: Fast Track

This is a FLEX course.

Course language: English

Jun 2-6, 2014
Houston, TX
Enroll for classroom training
Enroll for online training


Time zone: US/Central




June 09 week

VM-VCACICM
VMware vCloud Automation Center: Install, Configure, Manage

This is a FLEX course.

Course language: English

Jun 9-11, 2014
Vancouver, BC
Enroll for classroom training
Enroll for online training


Time zone: Canada/Pacific

VM-VCACICM
VMware vCloud Automation Center: Install, Configure, Manage

This is a FLEX course.

Course language: English

Jun 9-11, 2014
Sunnyvale/San Jose, CA
Enroll for classroom training
Enroll for online training


Time zone: US/Pacific

VM-VICM
VMware vSphere: Install, Configure, Manage (Version 5.5)

This is a FLEX course.

Course language: English

Jun 9-13, 2014
Edina, MN
Enroll for classroom training
Enroll for online training


Time zone: US/Central




June 16 week

VM-VCACICM
VMware vCloud Automation Center: Install, Configure, Manage

This is a FLEX course.

Course language: English

Jun 16-18, 2014
Tempe
Enroll for classroom training
Enroll for online training


Time zone: US/Arizona

VM-VCNS
VMware vCloud Networking and Security for vSphere Professionals

This is a FLEX course.

Course language: English

Jun 16-18, 2014
Sunnyvale/San Jose, CA
Enroll for classroom training
Enroll for online training


Time zone: US/Pacific

VM-VIEWFT
VMware View: Desktop Fast Track (Version 5.1)

This is a FLEX course.

Course language: English

Jun 16-20, 2014
Toronto, ON
Enroll for classroom training
Enroll for online training


Time zone: Canada/Eastern

VM-VOS
VMware vSphere 5.5: Optimize and Scale

This is a FLEX course.

Course language: English

Jun 16-20, 2014
Vancouver, BC
Enroll for classroom training
Enroll for online training


Time zone: Canada/Pacific

VM-VICM
VMware vSphere: Install, Configure, Manage (Version 5.5)

This is a FLEX course.

Course language: French

Jun 16-20, 2014
Montreal, QC
Enroll for classroom training
Enroll for online training


Time zone: Canada/Eastern




Cloud Computing




June 02 week

CI-DCUCI
Implementing Cisco Data Center Unified Computing

This is a FLEX course.

Course language: English

Jun 2-6, 2014
Raleigh/Durham, NC
Enroll for classroom training
Enroll for online training


Time zone: US/Eastern

CI-DCUCI
Implementing Cisco Data Center Unified Computing

This is a FLEX course.

Course language: English

Jun 2-6, 2014
Toronto, ON
Enroll for classroom training
Enroll for online training


Time zone: Canada/Eastern




June 16 week

CI-DCUCT
Troubleshooting Cisco Data Center Unified Computing

This is a FLEX course.

Course language: English

Jun 16-18, 2014
Sunnyvale/San Jose, CA
Enroll for classroom training
Enroll for online training


Time zone: US/Pacific

CI-DCUCT
Troubleshooting Cisco Data Center Unified Computing

This is a FLEX course.

Course language: English

Jun 16-18, 2014
Vancouver, BC
Enroll for classroom training
Enroll for online training


Time zone: Canada/Pacific




Virtualized Data Center




June 02 week

CI-DCICT
Introducing Cisco Data Center Technologies

This is a FLEX course.

Course language: English

Jun 2-6, 2014
Toronto, ON
Enroll for classroom training
Enroll for online training


Time zone: Canada/Eastern

CI-DCICT
Introducing Cisco Data Center Technologies

This is a FLEX course.

Course language: English

Jun 2-6, 2014
Herndon/Reston, VA
Enroll for classroom training
Enroll for online training


Time zone: US/Eastern




Security Courses




May 12 week

CI-FIREWALL
Deploying Cisco ASA Firewall Features (FIREWALL) Version 2.0

This is a FLEX course.

Course language: English

May 12-16, 2014
New York, NY
Enroll for classroom training
Enroll for online training


Time zone: US/Eastern

CI-IINS
Implementing Cisco IOS Network Security

This is a FLEX course.

Course language: English

May 12-16, 2014
Toronto, ON
Enroll for classroom training
Enroll for online training


Time zone: Canada/Eastern




May 19 week

CI-VPN
Deploying Cisco ASA VPN Solutions (Version 2.0)

This is a FLEX course.

Course language: English

May 19-23, 2014
Raleigh/Durham, NC
Enroll for classroom training
Enroll for online training


Time zone: US/Eastern

CI-IPS 7
Implementing Cisco Intrusion Prevention System 7.0

This is a FLEX course.

Course language: English

May 19-23, 2014
Dallas, TX
Enroll for classroom training
Enroll for online training


Time zone: US/Central




June 02 week

CI-IINS
Implementing Cisco IOS Network Security

This is a FLEX course.

Course language: English

Jun 2-6, 2014
Sunnyvale/San Jose, CA
Enroll for classroom training
Enroll for online training


Time zone: US/Pacific




June 09 week

CI-FIREWALL
Deploying Cisco ASA Firewall Features (FIREWALL) Version 2.0

This is a FLEX course.

Course language: English

Jun 9-13, 2014
Atlanta, GA
Enroll for classroom training
Enroll for online training


Time zone: US/Eastern




June 16 week

CI-VPN
Deploying Cisco ASA VPN Solutions (Version 2.0)

This is a FLEX course.

Course language: English

Jun 16-20, 2014
Chicago, IL
Enroll for classroom training
Enroll for online training


Time zone: US/Central

CI-IPS 7
Implementing Cisco Intrusion Prevention System 7.0

This is a FLEX course.

Course language: English

Jun 16-20, 2014
Herndon/Reston, VA
Enroll for classroom training
Enroll for online training


Time zone: US/Eastern




Citrix




April 21 week

CX-CXD-400
Designing App and Desktop Solutions with Citrix XenDesktop 7

This is a FLEX course.

Course language: English

Apr 21-26, 2014
Newport Beach, CA
Enroll for classroom training
Enroll for online training


Time zone: US/Pacific




April 28 week

CX-CXA-206-1I
Citrix XenApp 6.5 Administration

This is a FLEX course.

Course language: English

Apr 28-May 3, 2014
Newport Beach, CA
Enroll for classroom training
Enroll for online training


Time zone: US/Pacific

CX-CXD-300
Deploying Citrix XenDesktop 7 Solutions

This is a FLEX course.

Course language: English

Apr 28-May 2, 2014
Mississauga, ON
Enroll for classroom training
Enroll for online training


Time zone: Canada/Central




May 05 week

CX-CNS-205-1
Citrix NetScaler 10 Essentials and Networking

This is a FLEX course.

Course language: English

May 5-9, 2014
Mississauga, ON
Enroll for classroom training
Enroll for online training


Time zone: Canada/Central

CX-CXA-301-1I
Citrix® XenAppTM 6.5 Advanced Administration

This is a FLEX course.

Course language: English

May 5-10, 2014
Newport Beach, CA
Enroll for classroom training
Enroll for online training


Time zone: US/Pacific




May 12 week

CX-CXA-206-1I
Citrix XenApp 6.5 Administration

This is a FLEX course.

Course language: English

May 12-16, 2014
Mississauga, ON
Enroll for classroom training
Enroll for online training


Time zone: Canada/Central

CX-CXD-300
Deploying Citrix XenDesktop 7 Solutions

This is a FLEX course.

Course language: English

May 12-17, 2014
Newport Beach, CA
Enroll for classroom training
Enroll for online training


Time zone: US/Pacific




May 19 week

CX-CXD-203
Managing App and Desktop Solutions with Citrix XenDesktop 7

This is a FLEX course.

Course language: English

May 19-24, 2014
Newport Beach, CA
Enroll for classroom training
Enroll for online training


Time zone: US/Pacific




May 26 week

CX-CNS-205-1
Citrix NetScaler 10 Essentials and Networking

This is a FLEX course.

Course language: English

May 26-31, 2014
Newport Beach, CA
Enroll for classroom training
Enroll for online training


Time zone: US/Pacific

CX-CXD-203
Managing App and Desktop Solutions with Citrix XenDesktop 7

This is a FLEX course.

Course language: English

May 26-30, 2014
Mississauga, ON
Enroll for classroom training
Enroll for online training


Time zone: Canada/Central




June 02 week

CX-CXA-206-1I
Citrix XenApp 6.5 Administration

This is a FLEX course.

Course language: English

Jun 2-7, 2014
Newport Beach, CA
Enroll for classroom training
Enroll for online training


Time zone: US/Pacific




June 09 week

CX-CXA-206-1I
Citrix XenApp 6.5 Administration

This is a FLEX course.

Course language: English

Jun 9-14, 2014
Newport Beach, CA
Enroll for classroom training
Enroll for online training


Time zone: US/Pacific

CX-CXD-300
Deploying Citrix XenDesktop 7 Solutions

This is a FLEX course.

Course language: English

Jun 9-13, 2014
Mississauga, ON
Enroll for classroom training
Enroll for online training


Time zone: Canada/Central




June 16 week

CX-CXA-301-1I
Citrix® XenAppTM 6.5 Advanced Administration

This is a FLEX course.

Course language: English

Jun 16-20, 2014
Mississauga, ON
Enroll for classroom training
Enroll for online training


Time zone: Canada/Central

CX-CXD-300
Deploying Citrix XenDesktop 7 Solutions

This is a FLEX course.

Course language: English

Jun 16-21, 2014
Newport Beach, CA
Enroll for classroom training
Enroll for online training


Time zone: US/Pacific




HP




May 12 week

HP-HK987
HP Converged Infrastructure Solutions Software, Rev 11.11 - 00294445

This is a FLEX course.

Course language: English

May 13-16, 2014
Sunnyvale/San Jose, CA
Enroll for classroom training
Enroll for online training


Time zone: US/Pacific




June 02 week

HP-GOLDSTBC
HP-MASE Storage Solutions Architect V1 Bootcamp

This is a FLEX course.

Course language: English

Jun 2-6, 2014
Toronto, ON
Enroll for classroom training
Enroll for online training


Time zone: Canada/Eastern




June 16 week

HP-GOLDCLBC
HP-ASE Data Center and Cloud Architect V1 Bootcamp

This is a FLEX course.

Course language: English

Jun 16-20, 2014
Toronto, ON
Enroll for classroom training
Enroll for online training


Time zone: Canada/Eastern




Juniper Networks




April 21 week

JP-IJOS
Introduction to the Operating System

This is a FLEX course.

Course language: English

Apr 21, 2014
Tempe, AZ
Enroll for classroom training
Enroll for online training


Time zone: US/Arizona

JP-JIR
JUNOS Intermediate Routing

This is a FLEX course.

Course language: English

Apr 23-24, 2014
Tempe, AZ
Enroll for classroom training
Enroll for online training


Time zone: US/Arizona

JP-JIR
JUNOS Intermediate Routing

This is a FLEX course.

Course language: English

Apr 23-24, 2014
Raleigh
Enroll for classroom training
Enroll for online training


Time zone: US/Eastern

JP-JMR
Junos Multicast Routing

This is a FLEX course.

Course language: English

Apr 23-24, 2014
Tempe, AZ
Enroll for classroom training
Enroll for online training


Time zone: US/Arizona

JP-JMR
Junos Multicast Routing

This is a FLEX course.

Course language: English

Apr 23-24, 2014
Raleigh
Enroll for classroom training
Enroll for online training


Time zone: US/Eastern

JP-JRE
Junos Routing Essentials

This is a FLEX course.

Course language: English

Apr 22, 2014
Tempe, AZ
Enroll for classroom training
Enroll for online training


Time zone: US/Arizona

JP-JSEC
Junos Security

This is a FLEX course.

Course language: English

Apr 23-25, 2014
Tempe, AZ
Enroll for classroom training
Enroll for online training


Time zone: US/Arizona

JP-JSEC
Junos Security

This is a FLEX course.

Course language: English

Apr 23-25, 2014
Raleigh
Enroll for classroom training
Enroll for online training


Time zone: US/Eastern

JP-JSPX
Junos Service Provider Switching

This is a FLEX course.

Course language: English

Apr 21-22, 2014
Raleigh
Enroll for classroom training
Enroll for online training


Time zone: US/Eastern

JP-JSPX
Junos Service Provider Switching

This is a FLEX course.

Course language: English

Apr 21-22, 2014
Tempe, AZ
Enroll for classroom training
Enroll for online training


Time zone: US/Arizona




April 28 week

JP-AJEX
Advanced Junos Enterprise Switching

This is a FLEX course.

Course language: English

May 1-2, 2014
Tempe, AZ
Enroll for classroom training
Enroll for online training


Time zone: US/Arizona

JP-AJEX
Advanced Junos Enterprise Switching

This is a FLEX course.

Course language: English

May 1-2, 2014
Raleigh
Enroll for classroom training
Enroll for online training


Time zone: US/Eastern

JP-JEX
JUNOS Enterprise Switching

This is a FLEX course.

Course language: English

Apr 29-30, 2014
Tempe, AZ
Enroll for classroom training
Enroll for online training


Time zone: US/Arizona

JP-JEX
JUNOS Enterprise Switching

This is a FLEX course.

Course language: English

Apr 29-30, 2014
Raleigh
Enroll for classroom training
Enroll for online training


Time zone: US/Eastern

JP-JMV
Junos MPLS and VPNS

This is a FLEX course.

Course language: English

Apr 28-May 2, 2014
Tempe, AZ
Enroll for classroom training
Enroll for online training


Time zone: US/Arizona

JP-JMV
Junos MPLS and VPNS

This is a FLEX course.

Course language: English

Apr 28-May 2, 2014
Raleigh
Enroll for classroom training
Enroll for online training


Time zone: US/Eastern

JP-JPSA
Junos Pulse Secure Access

This is a FLEX course.

Course language: English

Apr 28-May 1, 2014
Tempe, AZ
Enroll for classroom training
Enroll for online training


Time zone: US/Arizona

JP-JPSA
Junos Pulse Secure Access

This is a FLEX course.

Course language: English

Apr 28-May 1, 2014
Raleigh
Enroll for classroom training
Enroll for online training


Time zone: US/Eastern




May 05 week

JP-AJEX
Advanced Junos Enterprise Switching

This is a FLEX course.

Course language: English

May 8-9, 2014
Tempe, AZ
Enroll for classroom training
Enroll for online training


Time zone: US/Arizona

JP-AJEX
Advanced Junos Enterprise Switching

This is a FLEX course.

Course language: English

May 8-9, 2014
Raleigh
Enroll for classroom training
Enroll for online training


Time zone: US/Eastern

JP-AJSEC
Advanced Junos Security

This is a FLEX course.

Course language: English

May 7-9, 2014
Tempe, AZ
Enroll for classroom training
Enroll for online training


Time zone: US/Arizona

JP-AJSEC
Advanced Junos Security

This is a FLEX course.

Course language: English

May 7-9, 2014
Phoenix, AZ
Enroll for classroom training
Enroll for online training


Time zone: US/Arizona

JP-CJFV
Configuring Juniper Networks Firewall/IPSec VPN Products

This is a FLEX course.

Course language: English

May 5-7, 2014
Raleigh
Enroll for classroom training
Enroll for online training


Time zone: US/Eastern

JP-CJFV
Configuring Juniper Networks Firewall/IPSec VPN Products

This is a FLEX course.

Course language: English

May 5-7, 2014
Tempe, AZ
Enroll for classroom training
Enroll for online training


Time zone: US/Arizona

JP-IJOS
Introduction to the Operating System

This is a FLEX course.

Course language: English

May 5, 2014
Raleigh
Enroll for classroom training
Enroll for online training


Time zone: US/Eastern

JP-JNCIA
JNCIA-Junos Bootcamp (IJOS/JRE)

This is a FLEX course.

Course language: English

May 5-6, 2014
Raleigh
Enroll for classroom training
Enroll for online training


Time zone: US/Eastern

JP-JEX
JUNOS Enterprise Switching

This is a FLEX course.

Course language: English

May 6-7, 2014
Raleigh
Enroll for classroom training
Enroll for online training


Time zone: US/Eastern

JP-JEX
JUNOS Enterprise Switching

This is a FLEX course.

Course language: English

May 6-7, 2014
Tempe, AZ
Enroll for classroom training
Enroll for online training


Time zone: US/Arizona




May 12 week

JP-AJSPR
Advanced Junos Service Provider Routing

This is a FLEX course.

Course language: English

May 12-15, 2014
Raleigh
Enroll for classroom training
Enroll for online training


Time zone: US/Eastern

JP-AJSPR
Advanced Junos Service Provider Routing

This is a FLEX course.

Course language: English

May 12-15, 2014
Tempe, AZ
Enroll for classroom training
Enroll for online training


Time zone: US/Arizona

JP-JNCIS-ENTBC
Enterprise Networking Certification Boot Camp - JNCIA & JNCIS

This is a FLEX course.

Course language: English

May 12-16, 2014
Raleigh/Durham, NC
Enroll for classroom training
Enroll for online training


Time zone: US/Eastern

JP-JNCIA
JNCIA-Junos Bootcamp (IJOS/JRE)

This is a FLEX course.

Course language: English

May 12-13, 2014
Raleigh/Durham, NC
Enroll for classroom training
Enroll for online training


Time zone: US/Eastern

JP-JIR-JEX
Juniper Networks Routing & Switching Bootcamp JNCIS-ENT

This is a FLEX course.

Course language: English

May 14-16, 2014
Raleigh/Durham, NC
Enroll for classroom training
Enroll for online training


Time zone: US/Eastern

JP-JEX
JUNOS Enterprise Switching

This is a FLEX course.

Course language: English

May 13-14, 2014
Raleigh
Enroll for classroom training
Enroll for online training


Time zone: US/Eastern

JP-JEX
JUNOS Enterprise Switching

This is a FLEX course.

Course language: English

May 13-14, 2014
Tempe, AZ
Enroll for classroom training
Enroll for online training


Time zone: US/Arizona

JP-JMV
Junos MPLS and VPNS

This is a FLEX course.

Course language: English

May 12-16, 2014
Tempe, AZ
Enroll for classroom training
Enroll for online training


Time zone: US/Arizona

JP-JMV
Junos MPLS and VPNS

This is a FLEX course.

Course language: English

May 12-16, 2014
Raleigh
Enroll for classroom training
Enroll for online training


Time zone: US/Eastern

JP-JSEC
Junos Security

This is a FLEX course.

Course language: English

May 12-14, 2014
Raleigh
Enroll for classroom training
Enroll for online training


Time zone: US/Eastern

JP-JSEC
Junos Security

This is a FLEX course.

Course language: English

May 12-14, 2014
Tempe, AZ
Enroll for classroom training
Enroll for online training


Time zone: US/Arizona




May 19 week

JP-AJER
Advanced Junos Enterprise Routing

This is a FLEX course.

Course language: English

May 19-21, 2014
Tempe, AZ
Enroll for classroom training
Enroll for online training


Time zone: US/Arizona

JP-AJEX
Advanced Junos Enterprise Switching

This is a FLEX course.

Course language: English

May 22-23, 2014
Raleigh/Durham, NC
Enroll for classroom training
Enroll for online training


Time zone: US/Eastern

JP-AJEX
Advanced Junos Enterprise Switching

This is a FLEX course.

Course language: English

May 22-23, 2014
Tempe, AZ
Enroll for classroom training
Enroll for online training


Time zone: US/Arizona

JP-AJEX
Advanced Junos Enterprise Switching

This is a FLEX course.

Course language: English

May 22-23, 2014
Raleigh
Enroll for classroom training
Enroll for online training


Time zone: US/Eastern

JP-AJSEC
Advanced Junos Security

This is a FLEX course.

Course language: English

May 19-21, 2014
Raleigh
Enroll for classroom training
Enroll for online training


Time zone: US/Eastern

JP-AJSEC
Advanced Junos Security

This is a FLEX course.

Course language: English

May 19-21, 2014
Tempe, AZ
Enroll for classroom training
Enroll for online training


Time zone: US/Arizona

JP-JPSA
Junos Pulse Secure Access

This is a FLEX course.

Course language: English

May 19-22, 2014
Tempe, AZ
Enroll for classroom training
Enroll for online training


Time zone: US/Arizona

JP-JPSA
Junos Pulse Secure Access

This is a FLEX course.

Course language: English

May 19-22, 2014
Raleigh
Enroll for classroom training
Enroll for online training


Time zone: US/Eastern




May 26 week

JP-JCOS
Junos Class of Service

This is a FLEX course.

Course language: English

May 27-28, 2014
Tempe, AZ
Enroll for classroom training
Enroll for online training


Time zone: US/Arizona

JP-JMR
Junos Multicast Routing

This is a FLEX course.

Course language: English

May 29-30, 2014
Tempe, AZ
Enroll for classroom training
Enroll for online training


Time zone: US/Arizona

JP-JSPX
Junos Service Provider Switching

This is a FLEX course.

Course language: English

May 27-28, 2014
Raleigh
Enroll for classroom training
Enroll for online training


Time zone: US/Eastern

JP-JSPX
Junos Service Provider Switching

This is a FLEX course.

Course language: English

May 27-28, 2014
Tempe, AZ
Enroll for classroom training
Enroll for online training


Time zone: US/Arizona




June 02 week

JP-AJWL
Advanced Juniper Networks Wireless LANs

This is a FLEX course.

Course language: English

Jun 2-5, 2014
Raleigh
Enroll for classroom training
Enroll for online training


Time zone: US/Eastern

JP-AJWL
Advanced Juniper Networks Wireless LANs

This is a FLEX course.

Course language: English

Jun 2-5, 2014
Tempe, AZ
Enroll for classroom training
Enroll for online training


Time zone: US/Arizona

JP-AJEX
Advanced Junos Enterprise Switching

This is a FLEX course.

Course language: English

Jun 5-6, 2014
Raleigh
Enroll for classroom training
Enroll for online training


Time zone: US/Eastern

JP-AJEX
Advanced Junos Enterprise Switching

This is a FLEX course.

Course language: English

Jun 5-6, 2014
Tempe, AZ
Enroll for classroom training
Enroll for online training


Time zone: US/Arizona

JP-CJFV
Configuring Juniper Networks Firewall/IPSec VPN Products

This is a FLEX course.

Course language: English

Jun 2-4, 2014
Tempe, AZ
Enroll for classroom training
Enroll for online training


Time zone: US/Arizona

JP-JSEC
Junos Security

This is a FLEX course.

Course language: English

Jun 4-6, 2014
Tempe, AZ
Enroll for classroom training
Enroll for online training


Time zone: US/Arizona

JP-JSEC
Junos Security

This is a FLEX course.

Course language: English

Jun 4-6, 2014
Raleigh
Enroll for classroom training
Enroll for online training


Time zone: US/Eastern




June 09 week

JP-AJSPR
Advanced Junos Service Provider Routing

This is a FLEX course.

Course language: English

Jun 9-12, 2014
Raleigh
Enroll for classroom training
Enroll for online training


Time zone: US/Eastern

JP-AJSPR
Advanced Junos Service Provider Routing

This is a FLEX course.

Course language: English

Jun 9-12, 2014
Tempe, AZ
Enroll for classroom training
Enroll for online training


Time zone: US/Arizona

JP-JPSA
Junos Pulse Secure Access

This is a FLEX course.

Course language: English

Jun 9-12, 2014
Tempe, AZ
Enroll for classroom training
Enroll for online training


Time zone: US/Arizona

JP-JPSA
Junos Pulse Secure Access

This is a FLEX course.

Course language: English

Jun 9-12, 2014
Raleigh
Enroll for classroom training
Enroll for online training


Time zone: US/Eastern




June 16 week

JP-AJER
Advanced Junos Enterprise Routing

This is a FLEX course.

Course language: English

Jun 16-18, 2014
Tempe, AZ
Enroll for classroom training
Enroll for online training


Time zone: US/Arizona

JP-AJEX
Advanced Junos Enterprise Switching

This is a FLEX course.

Course language: English

Jun 19-20, 2014
Tempe, AZ
Enroll for classroom training
Enroll for online training


Time zone: US/Arizona

JP-AJEX
Advanced Junos Enterprise Switching

This is a FLEX course.

Course language: English

Jun 19-20, 2014
Raleigh
Enroll for classroom training
Enroll for online training


Time zone: US/Eastern

JP-AJEX
Advanced Junos Enterprise Switching

This is a FLEX course.

Course language: English

Jun 19-20, 2014
Raleigh/Durham, NC
Enroll for classroom training
Enroll for online training


Time zone: US/Eastern

JP-AJSEC
Advanced Junos Security

This is a FLEX course.

Course language: English

Jun 16-18, 2014
Raleigh
Enroll for classroom training
Enroll for online training


Time zone: US/Eastern

JP-AJSEC
Advanced Junos Security

This is a FLEX course.

Course language: English

Jun 16-18, 2014
Tempe, AZ
Enroll for classroom training
Enroll for online training


Time zone: US/Arizona

JP-IJWL
Introduction to Juniper Networks Wireless LANs

This is a FLEX course.

Course language: English

Jun 16-18, 2014
Raleigh
Enroll for classroom training
Enroll for online training


Time zone: US/Eastern

JP-IJWL
Introduction to Juniper Networks Wireless LANs

This is a FLEX course.

Course language: English

Jun 16-18, 2014
Tempe, AZ
Enroll for classroom training
Enroll for online training


Time zone: US/Arizona

JP-JMV
Junos MPLS and VPNS

This is a FLEX course.

Course language: English

Jun 16-20, 2014
Raleigh
Enroll for classroom training
Enroll for online training


Time zone: US/Eastern




Microsoft




April 21 week

MS-6293
Troubleshooting and Supporting Microsoft Windows 7 in the Enterprise

This is a FLEX course.

Course language: English

Apr 21-23, 2014
Tempe, AZ
Enroll for classroom training
Enroll for online training


Time zone: US/Arizona

MS-6293
Troubleshooting and Supporting Microsoft Windows 7 in the Enterprise

This is a FLEX course.

Course language: English

Apr 21-23, 2014
Raleigh
Enroll for classroom training
Enroll for online training


Time zone: US/Eastern




April 28 week

MS-10775
Administering Microsoft SQL Server 2012 Databases

This is a FLEX course.

Course language: English

Apr 28-May 2, 2014
Raleigh
Enroll for classroom training
Enroll for online training


Time zone: US/Eastern

MS-10775
Administering Microsoft SQL Server 2012 Databases

This is a FLEX course.

Course language: English

Apr 28-May 2, 2014
Tempe, AZ
Enroll for classroom training
Enroll for online training


Time zone: US/Arizona

MS-10174
Configuring and Adminstering Microsoft SharePoint 2010

This is a FLEX course.

Course language: English

Apr 28-May 2, 2014
Tempe, AZ
Enroll for classroom training
Enroll for online training


Time zone: US/Arizona

MS-10174
Configuring and Adminstering Microsoft SharePoint 2010

This is a FLEX course.

Course language: English

Apr 28-May 2, 2014
Raleigh
Enroll for classroom training
Enroll for online training


Time zone: US/Eastern

MS-6425
Configuring and Troubleshooting Windows Server 2008 Active Directory Domain Services

This is a FLEX course.

Course language: English

Apr 28-May 2, 2014
Tempe, AZ
Enroll for classroom training
Enroll for online training


Time zone: US/Arizona

MS-6425
Configuring and Troubleshooting Windows Server 2008 Active Directory Domain Services

This is a FLEX course.

Course language: English

Apr 28-May 2, 2014
Raleigh
Enroll for classroom training
Enroll for online training


Time zone: US/Eastern

MS-10263
Development Windows Communication Foundation Solutions with MS Visual Studio 2010

This is a FLEX course.

Course language: English

Apr 30-May 2, 2014
Raleigh
Enroll for classroom training
Enroll for online training


Time zone: US/Eastern

MS-10263
Development Windows Communication Foundation Solutions with MS Visual Studio 2010

This is a FLEX course.

Course language: English

Apr 30-May 2, 2014
Tempe, AZ
Enroll for classroom training
Enroll for online training


Time zone: US/Arizona




May 05 week

MS-6421
Configuring and Troubleshooting a Windows Server 2008 R2 Network Infrastructure

This is a FLEX course.

Course language: English

May 5-9, 2014
Tempe, AZ
Enroll for classroom training
Enroll for online training


Time zone: US/Arizona

MS-6421
Configuring and Troubleshooting a Windows Server 2008 R2 Network Infrastructure

This is a FLEX course.

Course language: English

May 5-9, 2014
Raleigh
Enroll for classroom training
Enroll for online training


Time zone: US/Eastern

MS-10267
Introduction to Web Development with Microsoft Visual Studio 2010

This is a FLEX course.

Course language: English

May 5-9, 2014
Tempe, AZ
Enroll for classroom training
Enroll for online training


Time zone: US/Arizona

MS-10267
Introduction to Web Development with Microsoft Visual Studio 2010

This is a FLEX course.

Course language: English

May 5-9, 2014
Raleigh
Enroll for classroom training
Enroll for online training


Time zone: US/Eastern

MS-10175
Microsoft SharePoint 2010, Application Development

This is a FLEX course.

Course language: English

May 5-9, 2014
Raleigh
Enroll for classroom training
Enroll for online training


Time zone: US/Eastern

MS-10175
Microsoft SharePoint 2010, Application Development

This is a FLEX course.

Course language: English

May 5-9, 2014
Tempe, AZ
Enroll for classroom training
Enroll for online training


Time zone: US/Arizona

MS-6294
Planning and Managing Windows 7 Desktop Deployments and Environments

This is a FLEX course.

Course language: English

May 5-9, 2014
Raleigh
Enroll for classroom training
Enroll for online training


Time zone: US/Eastern

MS-6294
Planning and Managing Windows 7 Desktop Deployments and Environments

This is a FLEX course.

Course language: English

May 5-9, 2014
Tempe, AZ
Enroll for classroom training
Enroll for online training


Time zone: US/Arizona




May 12 week

MS-10776
Developing Microsoft SQL Server 2012 Databases

This is a FLEX course.

Course language: English

May 12-16, 2014
Tempe, AZ
Enroll for classroom training
Enroll for online training


Time zone: US/Arizona

MS-10776
Developing Microsoft SQL Server 2012 Databases

This is a FLEX course.

Course language: English

May 12-16, 2014
Raleigh
Enroll for classroom training
Enroll for online training


Time zone: US/Eastern

MS-10324
Implementing and Managing Microsoft Desktop Virtualization

This is a FLEX course.

Course language: English

May 12-16, 2014
Raleigh
Enroll for classroom training
Enroll for online training


Time zone: US/Eastern

MS-10324
Implementing and Managing Microsoft Desktop Virtualization

This is a FLEX course.

Course language: English

May 12-16, 2014
Tempe, AZ
Enroll for classroom training
Enroll for online training


Time zone: US/Arizona

MS-10774
Querying Microsoft SQL Server 2012

This is a FLEX course.

Course language: English

May 12-16, 2014
Tempe, AZ
Enroll for classroom training
Enroll for online training


Time zone: US/Arizona




May 19 week

MS-10747
Administering System Center 2012 Configuration Manager

This is a FLEX course.

Course language: English

May 19-23, 2014
Tempe, AZ
Enroll for classroom training
Enroll for online training


Time zone: US/Arizona

MS-10747
Administering System Center 2012 Configuration Manager

This is a FLEX course.

Course language: English

May 19-23, 2014
Raleigh
Enroll for classroom training
Enroll for online training


Time zone: US/Eastern

MS-6236
Implementing and Maintaining Microsoft SQL Server 2008 Reporting Services

This is a FLEX course.

Course language: English

May 19-21, 2014
Raleigh
Enroll for classroom training
Enroll for online training


Time zone: US/Eastern

MS-6236
Implementing and Maintaining Microsoft SQL Server 2008 Reporting Services

This is a FLEX course.

Course language: English

May 19-21, 2014
Tempe, AZ
Enroll for classroom training
Enroll for online training


Time zone: US/Arizona

MS-10215
Implementing and Managing Microsoft Server Virtualization

This is a FLEX course.

Course language: English

May 19-23, 2014
Tempe, AZ
Enroll for classroom training
Enroll for online training


Time zone: US/Arizona

MS-10215
Implementing and Managing Microsoft Server Virtualization

This is a FLEX course.

Course language: English

May 19-23, 2014
Raleigh
Enroll for classroom training
Enroll for online training


Time zone: US/Eastern

MS-10266
Programming in C# with Microsoft Visual Studio 2010

This is a FLEX course.

Course language: English

May 19-23, 2014
Tempe, AZ
Enroll for classroom training
Enroll for online training


Time zone: US/Arizona

MS-10266
Programming in C# with Microsoft Visual Studio 2010

This is a FLEX course.

Course language: English

May 19-23, 2014
Raleigh
Enroll for classroom training
Enroll for online training


Time zone: US/Eastern




May 26 week

MS-10748
Deploying System Center 2012 Configuration Manager

This is a FLEX course.

Course language: English

May 28-30, 2014
Tempe, AZ
Enroll for classroom training
Enroll for online training


Time zone: US/Arizona

MS-10748
Deploying System Center 2012 Configuration Manager

This is a FLEX course.

Course language: English

May 28-30, 2014
Raleigh
Enroll for classroom training
Enroll for online training


Time zone: US/Eastern




June 02 week

MS-6419
Configuring, Managing and Maintaining Windows Server 2008 Servers

This is a FLEX course.

Course language: English

Jun 2-6, 2014
Tempe, AZ
Enroll for classroom training
Enroll for online training


Time zone: US/Arizona

MS-6419
Configuring, Managing and Maintaining Windows Server 2008 Servers

This is a FLEX course.

Course language: English

Jun 2-6, 2014
Raleigh
Enroll for classroom training
Enroll for online training


Time zone: US/Eastern

MS-10533
Deploying, Configuring and Administering Microsoft Lync Server 2010

This is a FLEX course.

Course language: English

Jun 2-6, 2014
Tempe, AZ
Enroll for classroom training
Enroll for online training


Time zone: US/Arizona

MS-10533
Deploying, Configuring and Administering Microsoft Lync Server 2010

This is a FLEX course.

Course language: English

Jun 2-6, 2014
Raleigh
Enroll for classroom training
Enroll for online training


Time zone: US/Eastern

MS-10233
Designing and Deploying Messaging Solutions with Microsoft Exchange Server 2010

This is a FLEX course.

Course language: English

Jun 2-6, 2014
Tempe, AZ
Enroll for classroom training
Enroll for online training


Time zone: US/Arizona

MS-10233
Designing and Deploying Messaging Solutions with Microsoft Exchange Server 2010

This is a FLEX course.

Course language: English

Jun 2-6, 2014
Raleigh
Enroll for classroom training
Enroll for online training


Time zone: US/Eastern

MS-10777
Implementing a Data Warehouse with Microsoft SQL Server 2012

This is a FLEX course.

Course language: English

Jun 2-6, 2014
Tempe, AZ
Enroll for classroom training
Enroll for online training


Time zone: US/Arizona

MS-10777
Implementing a Data Warehouse with Microsoft SQL Server 2012

This is a FLEX course.

Course language: English

Jun 2-6, 2014
Raleigh
Enroll for classroom training
Enroll for online training


Time zone: US/Eastern

MS-6292
Installing and Configuring Windows 7 Client

This is a FLEX course.

Course language: English

Jun 2-4, 2014
Tempe, AZ
Enroll for classroom training
Enroll for online training


Time zone: US/Arizona

MS-6292
Installing and Configuring Windows 7 Client

This is a FLEX course.

Course language: English

Jun 2-4, 2014
Raleigh
Enroll for classroom training
Enroll for online training


Time zone: US/Eastern

MS-10550
Programming in Visual Basic with Microsoft Visual Studio 2010

This is a FLEX course.

Course language: English

Jun 2-6, 2014
Tempe, AZ
Enroll for classroom training
Enroll for online training


Time zone: US/Arizona

MS-10550
Programming in Visual Basic with Microsoft Visual Studio 2010

This is a FLEX course.

Course language: English

Jun 2-6, 2014
Raleigh
Enroll for classroom training
Enroll for online training


Time zone: US/Eastern




June 09 week

MS-10135
Configuring, Managing and Troubleshooting Microsoft Exchange Server 2010

This is a FLEX course.

Course language: English

Jun 9-13, 2014
Tempe, AZ
Enroll for classroom training
Enroll for online training


Time zone: US/Arizona

MS-10135
Configuring, Managing and Troubleshooting Microsoft Exchange Server 2010

This is a FLEX course.

Course language: English

Jun 9-13, 2014
Raleigh
Enroll for classroom training
Enroll for online training


Time zone: US/Eastern

MS-10778
Implementing Data Models and Reports with Microsoft SQL Server 2012

This is a FLEX course.

Course language: English

Jun 9-13, 2014
Tempe, AZ
Enroll for classroom training
Enroll for online training


Time zone: US/Arizona

MS-10778
Implementing Data Models and Reports with Microsoft SQL Server 2012

This is a FLEX course.

Course language: English

Jun 9-13, 2014
Raleigh
Enroll for classroom training
Enroll for online training


Time zone: US/Eastern




June 16 week

MS-10774
Querying Microsoft SQL Server 2012

This is a FLEX course.

Course language: English

Jun 16-20, 2014
Tempe, AZ
Enroll for classroom training
Enroll for online training


Time zone: US/Arizona




IBM Software




May 12 week

IB-B5252G
IBM Cognos Framework Manager: Design Metadata Models (V10.2)

This is a FLEX course.

Course language: English

May 12-16, 2014
Sunnyvale/San Jose, CA
Enroll for classroom training
Enroll for online training


Time zone: US/Pacific




May 19 week

IB-B5255G
IBM Cognos BI Administration (V10.2)

This is a FLEX course.

Course language: English

May 20-22, 2014
Toronto, ON
Enroll for classroom training
Enroll for online training


Time zone: Canada/Eastern

IB-0G503G
Introduction to IBM SPSS Statistics (V22)

This is a FLEX course.

Course language: English

May 20-21, 2014
Montreal, QC
Enroll for classroom training
Enroll for online training


Time zone: Canada/Eastern




June 02 week

IB-TS612G
IBM Tivoli Storage Manager 6.3 Implementation and Administration

This is a FLEX course.

Course language: English

Jun 2-6, 2014
Raleigh/Durham, NC
Enroll for classroom training
Enroll for online training


Time zone: US/Eastern

IB-0A004G
Introduction to IBM SPSS Modeler and Data Mining (V15)

This is a FLEX course.

Course language: English

Jun 5-6, 2014
Montreal, QC
Enroll for classroom training
Enroll for online training


Time zone: Canada/Eastern

IB-WA585G
WebSphere Application Server V8.5 Administration

This is a FLEX course.

Course language: English

Jun 2-6, 2014
Sunnyvale/San Jose, CA
Enroll for classroom training
Enroll for online training


Time zone: US/Pacific




June 16 week

IB-B5258G
IBM Cognos Report Studio: Author Professional Reports Fundamentals (V10.2)

This is a FLEX course.

Course language: English

Jun 16-18, 2014
Calgary, AB
Enroll for classroom training
Enroll for online training


Time zone: Canada/Mountain

IB-TS612G
IBM Tivoli Storage Manager 6.3 Implementation and Administration

This is a FLEX course.

Course language: English

Jun 16-20, 2014
Montreal, QC
Enroll for classroom training
Enroll for online training


Time zone: Canada/Eastern




IBM Systems




May 12 week

IB-SNV1G
SAN Volume Controller (SVC) V6 Planning and Implementation Workshop

This is a FLEX course.

Course language: English

May 13-16, 2014
Chicago, IL
Enroll for classroom training
Enroll for online training


Time zone: US/Central




May 26 week

IB-AN30G
Power Systems for AIX - Virtualization I: Implementing Virtualization

This is a FLEX course.

Course language: English

May 26-30, 2014
Toronto, ON
Enroll for classroom training
Enroll for online training


Time zone: Canada/Eastern




June 02 week

IB-AN10G
AIX Basics

This is a FLEX course.

Course language: English

Jun 3-6, 2014
Toronto, ON
Enroll for classroom training
Enroll for online training


Time zone: Canada/Eastern




June 09 week

IB-AN14G
AIX Jumpstart for UNIX Professionals

This is a FLEX course.

Course language: English

Jun 9-13, 2014
Toronto, ON
Enroll for classroom training
Enroll for online training


Time zone: Canada/Eastern

IB-AL32G
Korn and Bash Shell Programming

This is a FLEX course.

Course language: English

Jun 9-13, 2014
Toronto, ON
Enroll for classroom training
Enroll for online training


Time zone: Canada/Eastern




June 16 week

IB-AN11G
Power Systems for AIX I: LPAR Configuration and Planning

This is a FLEX course.

Course language: English

Jun 16-18, 2014
Toronto, ON
Enroll for classroom training
Enroll for online training


Time zone: Canada/Eastern

IB-AN12G
Power Systems for AIX II: AIX Implementation and Administration

This is a FLEX course.

Course language: English

Jun 16-20, 2014
Toronto, ON
Enroll for classroom training
Enroll for online training


Time zone: Canada/Eastern