Syncsort Training from Fast Lane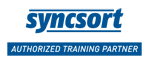 Fast Lane is Syncsort's first Global Authorized Training Partner and is now offering Syncsort training for customers focused on the administration of NSB.
Syncsort is a global software company that helps the world's most successful organizations rethink the economics of data. Syncsort provides record-setting performance and rapid time to value through easy to use data integration acceleration and data protection solutions. With over 15,000 deployments, Syncsort has transformed decision making and delivered more profitable results to thousands of customers worldwide.
Syncsort Reseller Partner training vouchers now available! Contact us at CustomerService@fastlaneus.com for details on how to add Syncsort training to your sales!
Check out our schedule below, or contact us for more information: 1-855-77 TRAIN.