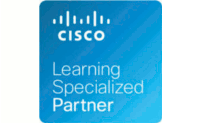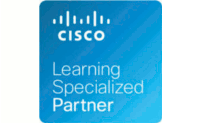 Enterprise Mobility Wireless Networking (EMWN)
This 3-day official Cisco Derivative Work of the Cisco Unified Wireless Networking v7.2 (CUWN) course is a streamlined way of getting the essentials of Cisco Unified Wireless. As the network converges, with Wired and Wireless access both under the responsibility of the same network team, traditional routing and switching professionals need baseline competency in Cisco's award-winning wireless solutions. This course is customized to help network professionals build the skills to implement and manage Cisco's Wireless Access Points and Wireless LAN Controllers (WLCs) in an enterprise environment. It also ensures you can use important features like CleanAir and 802.1X security.
About this Course
This course enables a network administrator to deploy a WLAN Enterprise solution through the identification and successful implementation of site-appropriate hardware and software features in a Cisco Unified Wireless Network.
Who should attend
The primary audience for this course are Sales Engineers and Network Engineers needing baseline competency in building and administering Cisco Unified Wireless network environments.
Class Prerequisites
The knowledge and skills that a learner must have before attending this course are as follows:
What You Will Learn
Upon completing this course, the learner will be able to meet these overall objectives:
Identify how the Cisco Unified Wireless Network solution meets the challenges of successful WLAN deployments
Select and properly install the Cisco Unified Wireless Network hardware appropriate to site and use requirements
Administer the WLAN, 802.11 security policies, and QoS appropriately to protect and optimize performance on the wireless network
Configure and implement the key Cisco Unified Wireless Network security features to mitigate WLAN security threats
Outline: Enterprise Mobility Wireless Networking (EMWN)
Course Introduction

Module 1: Cisco WLAN Solutions
Lesson 1: Characterizing Cisco Enterprise WLANs
Lesson 2: Describing WLC Terms and Protocols
Module 2: Cisco Unified Wireless Network Installation and Configuration
Lesson 1: Configuring the Cisco WLC Setup
Lesson 2: Configuring Cisco WLC Settings
Lesson 3: Configuring LAG
Lesson 4: Describing AP Operational Modes
Lesson 5: Configuring 802.11 Protocols, Performance Optimization, and Auto RF
Lesson 6: Implementing Cisco CleanAir
Module 3: Cisco Unified Wireless Network Administration
Lesson 1: Associating an AP to a WLC
Lesson 2: Configuring Mobility Groups and Roaming
Lesson 3: Administering Individual WLANs and AP Groups
Lesson 4: Configuring QoS
Lesson 5: Performing General Administration
Module 4: Cisco Unified Wireless Network Security
Lesson 1: Configuring Security Parameters
Lesson 2: Configuring a Cisco Unified Wireless Network to Support 802.1X Authentication
Classroom Training
Duration 3 days
Price
United States:

US$ 2,495

Cisco Learning Credits:

25 CLC
Enroll now
Online Training
Duration 3 days
Price
United States:

US$ 2,495

Cisco Learning Credits:

25 CLC
Enroll now
Schedule
Currently there are no training dates scheduled for this course. Request a date