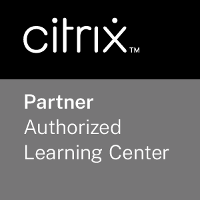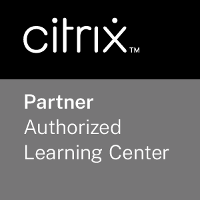 Managing App and Desktop Solutions with Citrix XenApp and XenDesktop 7.6 (CXD-203)
About this Course
The Managing Citrix XenDesktop 7 Solutions course provides students with the skills required to effectively support a Citrix app and desktop virtualization solution in a Windows Server 2012 environment.
Upon completion of this course, students will learn how to successfully manage, monitor, support and troubleshoot a XenDesktop 7 solution, which includes growing the implementation to accommodate changes in the environment (adding new apps, new users, new desktops,) and troubleshooting common issues.
This course prepares learners for the 1Y1-200 Managing Citrix XenDesktop 7 Solutions exam, a requirement for the Citrix Certified Associate certification.
Who should attend
End User Computing Professionals
Virtual Desktop Professionals
Cloud Infrastructure Architects
Virtual Desktop Engineers
Cloud Engineers
System Administrators
System Integrators/Partners
Class Prerequisites
Before taking this course, Citrix recommends that students have:
An understanding of server, desktop and application virtualization concepts [l*] Experience with Windows Server 2012, specifically:

Active Directory

Domains
Groups and User Accounts
Organizational Units
Group Policy Objects

Experience with Windows 7 and Windows 8 user interfaces
Experience with SQL Server 2012, specifically:

General understanding of databases, permissions, security, clustering/mirroring, HA

Basic networking knowledge

Protocols (TCP/IP, UDP, HTTP, etc.)

Basic storage knowledge (manage existing storage types, add new storage)
Basics of Citrix licensing
Familiarity with at least one hypervisor (XenServer, Hyper-V, or vSphere)
Basic understanding of the different types of profiles (local, roaming, mandatory)
Basic understanding of certificates, the role of Certificate Authorities, certificate types
Completed the following courses or can demonstrate equivalent knowledge:

CTX-102 Introduction to XenDesktop 7
What You Will Learn
Upon successful completion of this course, you will be able to:
Understand the XenDesktop 7 architecture, components, and communication
Delegate administration and manage licenses
Manage and monitor the hypervisor
Manage apps and desktops
Manage StoreFront and external access
Manage policies
Manage user profiles
Manage sessions, sites, and users
Manage printing
Manage Provisioning Services and Personal vDisks
Outline: Managing App and Desktop Solutions with Citrix XenApp and XenDesktop 7.6 (CXD-203)
Module 1: Understanding the Architecture of a XenApp and XenDesktop Solution
XenApp or XenDesktop
XenApp and XenDesktop Architecture Overview
User Layer
Access Layer
Control Layer
Resource Layer
Management Layer
XenApp and XenDesktop Sites
Ports
New Features
Deprecated Features
Discussion Question
Reinforcement Exercise: XenDesktop 7 Components
Module 2: Managing Licenses and Delegating Administration
Managing Licenses in Studio
Managing Delegated Administration
Monitoring Configuration Logs
Troubleshooting: Managing Licenses and Delegated Administration
Reinforcement Exercise: Configuring Roles and Scopes
Module 3: Managing and Monitoring the Hypervisor
Architecture Overview
Creating a Virtual Machine from an ISO
Managing Virtual Machines within a Hypervisor
Adjusting Virtual Machine or Template Resources
Configuring and Customizing Alerts
Troubleshooting: Managing and Monitoring Hypervisors
Reinforcement Exercise 1: Creating a Virtual Machine Template
Reinforcement Exercise 2: Completing the Setup Process After a Sysprep
Module 4: Managing Desktops and Applications
Architecture Overview
Connecting to Resources
Managing Machine Catalogs
To Create New Resource Settings
Using Machine Creation Services
Discussion Question
Creating a Machine Catalog for Server Desktops and Hosted Applications
Managing Delivery Groups
Managing Resources
Troubleshooting: Managing Desktops and Applications
Reinforcement Exercise: Delivering Server Desktops
Module 5: Managing StoreFront
StoreFront Architectural Overview
StoreFront Management Console
Creating a New Store
Creating Anonymous User Stores
Hiding a Store
Managing Authentication
Enabling End Users to Change Their Passwords
Managing Delivery Controllers
Removing a Store
Troubleshooting: Managing StoreFront
Reinforcement Exercise: Creating and Configuring a New Store
Module 6: Managing Policies and Profiles
Policy Precedence (Studio vs. Group Policy Objects)
Creating Policies Using Studio
Creating Policies Using Group Policy
Troubleshooting: Managing Policies
Managing End-User Profiles
Troubleshooting: Profile Management
Reinforcement Exercise 1: Working with Policies
Reinforcement Exercise 2: Working with Profiles
Module 7: Managing and Monitoring Sessions, Sites, and End Users with Director
Director Overview
Monitoring within the Director Dashboard
Monitoring and Managing End-User Sessions
Troubleshooting: Managing Sites, Sessions, and End Users with Director
Reinforcement Exercise: Using Director
Module 8: Managing Printing
Print Management Process
Default Printing Behavior
Configuring Client Printing
Managing Printer Drivers
Optimizing Printing Performance
Discussion Question
Setting Up and Managing the Universal Print Server
Troubleshooting: Managing Printing
Reinforcement Exercise: Managing Printing
Module 9: Managing Provisioning Services
Citrix Provisioning Services
Machine Creation Services or Provisioning Services
Provisioning Services Overview and Architecture
Discussion Question
Navigating the Provisioning Services Console
Creating the vDisk
Setting the vDisk Mode
Creating the Machine Catalog
Promoting Updated Versions
VHD Chain of Differencing Disks
Merging VHD Differencing Disks
Troubleshooting: Provisioning Services
Reinforcement Exercise: Provisioning Services
Classroom Training
Duration 5 days
Price
Enroll now
Click City Name To Book
Schedule
This is an Instructor-Led Classroom course
This green checkmark in the Upcoming Schedule below indicates that this session is Guaranteed to Run.
This is a
FLEX
course, which is delivered simultaneously in two modalities. Choose to attend the Instructor-Led Online (ILO) virtual session or Instructor-Led Classroom (ILT) session.
* This class is delivered by a partner.
United States
Currently there are no training dates scheduled for this course. You can schedule a private, onsite training session or request a public date by emailing info@fastlaneus.com.