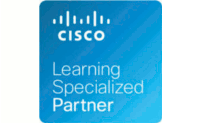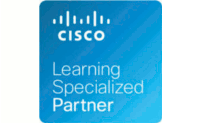 Implementing Cisco Identity Services Engine for Wireless Engineers (SWISE)
About this Course
The Implementing Cisco Identity Services Engine for Wireless Engineers (SWISE) version 1.0 course is a 2-day Instructor-led Training course. Cisco Identity Services Engine (ISE) combined with the Cisco Wireless LAN Controller (WLC), access point (AP), and end devices provide the comprehensive Cisco ISE deployment capabilities and solution into one system. This training course will enable Cisco end customers and authorized Cisco System Engineers (SEs) to understand the concepts, architecture, and use cases that are related to the Cisco ISE. This course will also prepare learners to implement basic Cisco ISE solutions. The focus is to ensure that students can implement the core features of Cisco ISE that most implementations require. Students should already be familiar with basic Cisco WLC and AP configuration.
Who should attend
The primary audience for this course is as follows:
The secondary audience for this course is as follows:
SEs who work in security and manage corporate security policies
Class Prerequisites
The knowledge and skills a learner must have before attending this course are as follows:
Preferred Advanced Wireless specialized partner or Gold partner.
Knowledge of basic 802.1X (It is recommended that the student take the free 802.1X E-learning on PEC before attending this training.)
Basic understanding of Microsoft Active Directory or LDAP.
CCNA-level route and switch knowledge.
What You Will Learn
Upon completing this course, the learner will be able to meet these overall objectives:
Describe the business drivers, architecture, components, and scalability factors related to typical Cisco ISE deployment
Provision secure network access by configuring AAA services and common CoA options.
Configure profiling processes, components, options, and best practices.
Provision a guest user access solution and the different options that are available.
Describe and implement a BYOD solution, with a focus on configuring BYOD using a single SSID.
Integrate Cisco ISE with a partner MDM solution.
Use Cisco ISE tools to gather useful information related to historical trending and to troubleshoot.
Outline: Implementing Cisco Identity Services Engine for Wireless Engineers (SWISE)
Module 1: Introducing Cisco ISE
Describe the issues that corporations face in supporting new paradigms of network access and how Cisco ISE can ease these pressures and help resolve these issues
Describe the Cisco ISE architecture and components
Describe the different Cisco ISE nodes and personas
Describe and compare the products that are used to run Cisco ISE
Describe the different Cisco ISE deployment options
Explain the Cisco ISE licensing options and considerations
Module 2: Provisioning Secure Access
Describe authentication services that are available to Cisco ISE
Describe the process that Cisco ISE uses to validate credentials from different identity sources
Configure authentication identity sources and policies
Describe Cisco ISE authorization policies and their components
Configure authorization components and policies
Define and understand CoA and review common permission elements, including dACLs, named ACLs, VLANs, and SGT
Lab 2-1: Basic Authentication and Authorization
Module 3: Configuring Profiling
Describe the functions and purpose of profiling on the Cisco ISE platform
List the profiler probes and discuss the attributes that are associated with these probes
Describe and configure profiler policies
Configure profiling on the Cisco ISE platform
Verify profiling operation on the Cisco ISE platform
List the best practices for configuring profiling on the Cisco ISE platform
Lab 3-1: Configuring and Validating Cisco ISE Profiling
Module 4: Providing Guest Access
Describe the concept of guest web access
Configure the components of a CWA-based guest access solution including redirection for both wired and wireless access
Describe guest accounts, roles, and data stores
Define the functionality that is provided by the Cisco ISE portals that are used for guest access
Configure support for guest reporting
Discuss best practices as relates to Cisco ISE guest services
Lab 4-1: Configuring Cisco ISE Guest Services
Module 5: Implementing BYOD
Define BYOD, explain the advantages of a Cisco BYOD solution, and describe BYOD components
Describe common BYOD use cases and explain how they apply to various corporate security policy needs
Describe BYOD deployment and configuration options
Describe the BYOD flow and on-boarding process when a single SSID is used
Implement an authentication policy for BYOD deployments
Implement an authorization policy for BYOD deployments
Lab 5-1: BYOD On-Boarding using a Single SSID
Lab 5-2: Test On-Boarding
Module 6: Exploring MDM Integration
Define the MDM integration process in Cisco ISE and add an MDM Server
Define MDM supported attributes
Examine an MDM configuration
Module 7: Monitoring and Troubleshooting Cisco ISE Security Solutions
Use the Cisco ISE dashboard
Navigate Cisco ISE alarm and logging features to assist in diagnosing problems
Use the Live Authentications log feature of Cisco ISE
Use the Global Search and Session Trace features of Cisco ISE
Use the TCP Dump feature of Cisco ISE
Use the Evaluate Configuration Validator tool
Lab 7-1: Monitoring and Troubleshooting Cisco ISE (Optional)
Appendix A: Introducing Posture Assessment
Define posturing, describe its major components, and explain the posturing flow
Explain typical posture example configurations to describe the configuration process
Describe and configure posture system settings
Describe posture policy logic and verify policy configuration
Classroom Training
Duration 2 days
Price
United States:

US$ 1,995

Cisco Learning Credits:

20 CLC
Enroll now
Online Training
Duration 2 days
Price
United States:

US$ 1,995

Cisco Learning Credits:

20 CLC
Enroll now
Click City Name To Book
Schedule
This is an Instructor-Led Classroom course
This is a
FLEX
course, which is delivered simultaneously in two modalities. Choose to attend the Instructor-Led Online (ILO) virtual session or Instructor-Led Classroom (ILT) session.
United States
Currently there are no training dates scheduled for this course. You can schedule a private, onsite training session or request a public date by emailing info@fastlaneus.com.
Asia Pacific
Singapore
| | | | |
| --- | --- | --- | --- |
| | May 29-30, 2017 | Singapore | Enroll |
Middle East
Africa
Egypt
Sep 27-28, 2017

Cairo

Course language: English

Enroll