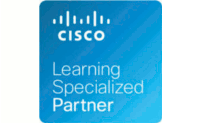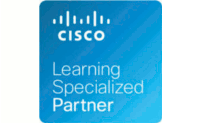 Cisco Unified Wireless Networking v7.2 (CUWN)
About this Course
This is a course developed by the Wireless Networks Business Unit designed to provide students with training on the latest versions of Cisco wireless hardware and software. Hands-on exercises provide students with experience with Cisco Compatible Extensions v6, scalability enhancements for the 5508, WiSM-2, and Flex 7500, service provider enhancements, FlexConnect AAA Override, RF Profiles, alloy QoS, Mobile Concierge 802.11u and MSAP and Stadium Vision, KTS CAC, Wi-Fi Direct, TrustSec, FlexConnect Access Control Lists, and FlexConnect Efficient Upgrade.

The course is updated from the CUWN 7.1 course to include the following latest features and functionality:
Cisco Compatible Extensions v6
scalability enhancements for the 5508
WiSM-2, and Flex 7500
FlexConnect rebranding, FlexConnect ACLs, FlexConnect AAA Override, and FlexConnect Fast Roaming
New lesson on IPv6
Cisco CleanAir Phase 2
OEAP 600 improvements
Service Provider enhancements
Alloy QoS
Mobile Concierge 802.11u, MSAP and StadiumVision
KTS CAC
802.11 Weak Security Policy
Wi-Fi Direct
TrustSec
Who should attend
Channel Field Engineers
Cisco Network Consulting Engineers
New Unified Communications Partners
Customer Network Engineers
Customer Network Managers
Class Prerequisites
Cisco CCNA® or equivalent work experience
Familiarity with Windows and Windows networking
Prior attendance at IUWNE (recommended)
What You Will Learn
Identify how the Cisco Unified Wireless Network solution meets the challenges of successful WLAN deployments
Select and properly install the Cisco Unified Wireless Network hardware appropriate to site and use requirements
Administer the WLAN, 802.11 security policies, and QoS appropriately to protect and optimize performance on the wireless network
Configure and implement the key Cisco Unified Wireless Network security features to mitigate WLAN security threats
Utilize a recommended troubleshooting methodology and the various tools available to gather and assess system data to isolate equipment failures and security threats
Follow On Courses
Outline: Cisco Unified Wireless Networking v7.2 (CUWN)
Module 1: Cisco WLAN Solutions
Characterizing Cisco Enterprise WLANs
Identifying Hardware Models
Describing WLC Terms and Protocols
Module 2: Cisco Unified Wireless Network Installation and Configuration
Installing Hardware Components
Configuring the Cisco WLC Setup
Configuring Cisco WLC Settings
Configuring LAG
Configuring IPv6
Describing AP Operational Modes
Configuring 802.11 Protocols, Performance Optimization, and Auto RF
Implementing Cisco CleanAir
Module 3: Cisco Unified Wireless Network Administration
Associating an AP to a WLC
Configuring Mobility Groups and Roaming
Administering Individual WLANs and AP Groups
Configuring QoS
Performing General Administration
Service Provider Enhancements
Module 4: Cisco Unified Wireless Network Security
Describing 802.11 Weak Security Policy
Configuring Security Parameters
Configuring a Cisco Unified Wireless Network to Support 802.1X Authentication
Module 5: Cisco Unified Wireless Network Maintenance and Troubleshooting
Troubleshooting Cisco Unified Wireless Network
Gathering VLAN Traffic and Other Data
Configuring Policies and Management
Loading Device Code and Managing Configuration Data
Labs
CLI Setup and Web Setup
Controller Web Interface
AP Association Options, Configurations, and Cisco CleanAir
Interface Group Configuration
VideoStream
Web Authentication
WPA or WPA2 PEAP-MS-CHAPv2 Authentication
WPA or WPA2 EAP-FAST Local EAP Authentication
Pre-Image Download
Classroom Training
Duration 5 days
Price
United States:

US$ 3,295

Cisco Learning Credits:

33 CLC
Enroll now
Online Training
Duration 5 days
Price
United States:

US$ 3,295

Cisco Learning Credits:

33 CLC
Enroll now
Click City Name To Book
Schedule
This is an Instructor-Led Classroom course
This is a
FLEX
course, which is delivered simultaneously in two modalities. Choose to attend the Instructor-Led Online (ILO) virtual session or Instructor-Led Classroom (ILT) session.
United States
Currently there are no training dates scheduled for this course. You can schedule a private, onsite training session or request a public date by emailing info@fastlaneus.com.
Europe