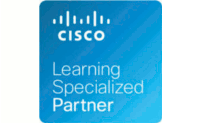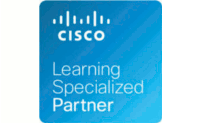 Understanding Cisco Cloud Fundamentals (CLDFND)
Now available in e-learning for a fraction of the ILT (Instructor Led Training) cost!
Cisco has revolutionized e-learning You will now receive the exact same content and labs in a self-paced format complete with HD video, searchable transcripts, full Student Guide textbook, hands-on labs (just like the ILT labs) and graded assessments. It is the utmost, interactive and state-of-the-art authorized Cisco e-learning available.
To start learning, click here to view this course.
About this Course
Cisco CLDFND is all about the fundamentals. For cloud engineers, admins and architects, a firm knowledge of Cisco's Cloud Fundamentals (CLDFND) is imperative for networking, computing and storing valuable data. That's where we come in.
This course builds upon a baseline knowledge of cloud technology – helping you to understand the basics of Cisco's Cloud Infrastructure. You will also learn the basics of Cisco Cloud infrastructure such as the Unified Compute including Cisco UCS and server virtualization, Unified Fabric including Data Center network architecture and infrastructure virtualization, and Unified Storage including integrated infrastructure solutions.
Upon completion of this class, you will have a strong understanding of Cisco's Cloud Fundamentals. This certification indicates an expert level knowledge of cloud storage, server virtualization and network architecture – all of which makes you significantly more valuable to your respective teams and accounts.
Who should attend
Cloud Engineers
Technical Administrators
Cloud Infrastructure Architects
Class Prerequisites
Understand network fundamentals—routing, switching, VLAN
Understand compute fundamentals—servers, operating systems
Understand storage fundamentals—basics of FC, FCoE, VSAN
What You Will Learn
Upon course completion, you will be able to:
Describe common cloud characteristics
Describe and Identify the cloud service models
Describe and Compare cloud deployment models
Identify cloud deployment decision factors
Identify and Illustrate key features of UCS
Define server virtualization
Describe network architectures for the data center
Identify infrastructure virtualization
Analyze and Identify storage provisioning concepts
Describe and Compare the difference between all the storage access technologies
Describe and Compare various reference architectures for converged infrastructure
Follow On Courses
Outline: Understanding Cisco Cloud Fundamentals (CLDFND)
Module 1: Introduction to Cloud Computing
Cloud Computing Overview
Cisco Cloud Computing Evolution
Business Needs for Cloud Computing
Cloud Computing Characteristics
"As a service" models of cloud computing

Infrastructure
Platform
Software
Anything

Compare the different cloud deployment models
Describe the components of the Cisco Intercloud Fabric solution
Module 2: Cloud Networking
Cisco Data Center Network architecture and components
Traditional Isolated LAN and SAN Networks
Cisco Unified Fabric Fundamentals
Basic components of virtual networking

Traditional Network Access Layer
VM Network Access Layer
Standard vSwitch
Distributed Virtual Switches

Standard vSwitch Challenges
Cisco Nexus 1000V Series components and benefits
Integration of Cisco Nexus 1000V Series
Cisco VSUM
Virtual Networking Service Appliances
Basic concepts of software defined networking
Basic concepts of the Cisco ACI Solution
Module 3: Cloud Storage
Block- and File-Based Storage Characteristics
SCSI protocol
Fibre channel protocol
FCoE protocol transporting options
iSCSI protocol overview
Network-Attached storage protocols
Thick and thin provisioning methods
Object storage principles
Fibre channel topologies and established communications
NAS topologies and established communications
Features of the Cisco MDS Fibre Channel switches
Module 4: Cloud Compute
Cisco UCS C-Series product family
Cisco UCS B-Series product family
Cisco UCS Manager provision blades

UCS Service Profiles
Service profile policies
Describing resource pools
Virtual LAN and SAN adapters
Service profile templates
Cisco UCS manager and central

Virtualization

Windows and Linux operating system functions
Traditional server deployments
Server virtualization
Hypervisor responsibilities
VMware vSphere suite
Microsoft Hyper-V virtualization
Citrix XenServer virtualization
KVM virtualization
Module 5: Cloud Automation and Reference Architectures
Components and benefits of reference architectures
FlexPod components and benefits
VCE components and benefits
VSPEX components and benefits
Hitachi data systems UCP select components and benefits
Differences between cloud automation and management platforms

Operations and Management Challenges
Automation and Management Solutions
Cisco UCS Director Infrastructure Management and Orchestration Features
Cisco IAC and Cisco PSC
OpenStack Cloud Infrastructure Solutions
Labs:
Examine Cisco Intercloud Fabric Director
Validate VSAN and Zoning
Validate FLOGI and FCNS
Explore the Cisco UCS Manager GUI
Review Cisco UCS B-Series Configuration
Deploy VMware ESXi Server on Cisco UCS Blade
Connect ESXi Server to FC LUN on the Cisco UCS Invicta Storage
Deploy the Cisco Nexus 1000V Switch with VSUM
Examine the Cisco Prime Network Services Controller
Deploy Cisco Virtual Security Gateway
Deploy Cisco ASA 1000V Cloud Firewall
Classroom Training
Duration 5 days
Price
United States:

US$ 4,295

Cisco Learning Credits:

43 CLC
Enroll now
Online Training
Duration 5 days
Price
United States:

US$ 4,295

Cisco Learning Credits:

43 CLC
Enroll now
E-Learning
Cisco Digital Learning
Price
United States:

US$ 1,495

Cisco Learning Credits:

15 CLC
Buy E-Learning
Click City Name To Book
Schedule
This is an Instructor-Led Classroom course
This green checkmark in the Upcoming Schedule below indicates that this session is Guaranteed to Run.
This is an Instructor-Led Online (ILO) course. These sessions are conducted via WebEx in a VoIP environment and require an Internet Connection and headset with microphone connected to your computer or laptop.
This is a FLEX course, which is delivered simultaneously in two modalities. Choose to attend the Instructor-Led Online (ILO) virtual session or Instructor-Led Classroom (ILT) session.
* This class is delivered by a partner.