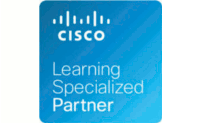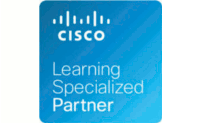 Introducing Cisco Cloud Administration (CLDADM)
Now available in e-learning for a fraction of the ILT (Instructor Led Training) cost!
Cisco has revolutionized e-learning You will now receive the exact same content and labs in a self-paced format complete with HD video, searchable transcripts, full Student Guide textbook, hands-on labs (just like the ILT labs) and graded assessments. It is the utmost, interactive and state-of-the-art authorized Cisco e-learning available.
To start learning, click here to view this course.
About this Course
Cisco CLDADM teaches Engineers, Technical Admins and Cloud Architects the baseline essential of Cloud administration and operation. This training curriculum will train you to successfully administer, operate and troubleshoot the essential functionalities of the Cloud.
This is a Flex course, which means you have the option of the Instructor-led Classroom course or the Instructor-led Online version offered via VoIP connection. Cisco CLDADM training gives you the flexibility to obtain Cisco Cloud Administration certification in a way that best suits you.
With either the classroom or online version of training, graduates of Cisco CLDADM will bring back to their teams a necessary understanding of Cisco UCS Director software, Cisco Prime Service Catalog and Virtual Application Container Services, as well as the ability to digest reports and charge-back.
Who should attend
Engineers, Technical Administrators and Cloud Architects involved in the administration and operation of cloud services.
Class Prerequisites
What You Will Learn
Upon course completion, you will be able to:
Identify the components of the Cisco Cloud management software solution
Understand the fundamentals of Cloud infrastructure administration
Describe reporting and charge-back
Provision Clouds using pre-configured templates
Perform Cloud management, monitoring and remediation
Follow On Courses
Outline: Introducing Cisco Cloud Administration (CLDADM)
Module 1: Cisco Cloud Technologies Overview
Cloud environments

Types
Private
Public
Hybrid
Providers

Server virtual infrastructure
Hypervisors in relation to hosts
Virtualization and networking
UCS Director

Orchestrator
Catalog
Deployment models

Cisco Cloud solutions
Module 2: Cisco Cloud Administration
Portal administration of UCS Director

Users, groups, and RBAC configurations
VLAN creation
Firewall
Datastores
Workflow via service catalog

VM operations in UCS Director
Migrations, resizing, snapshots
Cisco PSC Services

Configuration of service names and icons
Order permissions: RBAC
PSC architecture
Module 3: Cisco Cloud Provisioning
Template deployment process
Managing service profile templates from Cisco UCS Director
Application containers

Deployment overview
Basic support operations
Application policy infrastructure controller (APIC) support

VACS container topology and deployment methodology
Module 4: Cloud Systems Management and Monitoring
Identify ongoing issues
Alerts
Create monitoring dashboards
Customize monitoring dashboards
UCS Director reports
Resource limits for different tenants
Budgets for different tenants
UCS performance manager capacity planning
UCS performance manager bandwidth monitoring
Host groups facilitation of dynamic monitoring
Module 5: Cloud Remediation
Configuring serviceability options in Cisco UCS Director
Interpreting logs in Cisco UCS Director
Database backups and restoration
Labs:
Explore Cisco UCSD Portal and Register Virtual and Physical Components
Explore Cisco UCS Director Portal Administration Tasks
Explore Cisco UCS Director VM Operation Tasks Using Predefined Workflow
Explore Cisco PSC
Explore VM, Cisco UCS, and Server Templates in Cisco UCS Director
Explore Application Container Tasks Defining Two-Tier Application Container
Explore Cisco UCS Director Monitoring Capabilities
Explore Cisco UCS Director Built-In Reports
Explore Monitoring Dashboards in Cisco UCS Director and Generate a Top-N Report
Explore Charge-Back Reporting Capabilities of Cisco UCS Director
Enable Serviceability Options in Cisco UCS Director
Explore Logs in Cisco UCS Director
Back Up Cisco UCS Director Configuration to a Backup Server
Classroom Training
Duration 5 days
Price
United States:

US$ 4,295

Cisco Learning Credits:

43 CLC
Enroll now
Online Training
Duration 5 days
Price
United States:

US$ 4,295

Cisco Learning Credits:

43 CLC
Enroll now
E-Learning
Cisco Digital Learning
Price
United States:

US$ 1,495

Cisco Learning Credits:

15 CLC
Buy E-Learning
Click City Name To Book
Schedule
This is an Instructor-Led Classroom course
This green checkmark in the Upcoming Schedule below indicates that this session is Guaranteed to Run.
This is an Instructor-Led Online (ILO) course. These sessions are conducted via WebEx in a VoIP environment and require an Internet Connection and headset with microphone connected to your computer or laptop.
This is a FLEX course, which is delivered simultaneously in two modalities. Choose to attend the Instructor-Led Online (ILO) virtual session or Instructor-Led Classroom (ILT) session.
* This class is delivered by a partner.