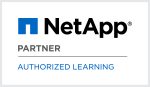 NetApp Certified Storage Associate (NCSA)
By becoming a NetApp Certified Storage Associate (NCSA) you will be able to exhibit a basic understanding of NetApp storage systems and Data ONTAP administration and management solutions. You will understand the components and functions of 7-Mode and clustered Data ONTAP, and perform basic administration of NetApp storage controllers running the Data ONTAP operating system in NFS and Windows® (CIFS) multiprotocol environments.
NetApp Certified Storage Associate Certification Requirements
The NetApp Certified Storage Associate certification is the foundational NetApp certification. Although the NCSA is an entry-level storage administration certification, it is a challenging exam that will test your knowledge of the storage industry and specific elements and functions of NetApp solutions. If you do not have at least 2 years of experience with NetApp storage, we strongly recommend you take the training before you take the NCSA Certification exam to greatly improve your odds of success.
Recommended training for NetApp Certified Storage Associate Certification (NS0-145)
Storage Fundamentals (WBT)
Introduction to NetApp Products (WBT)
Virtualization Technology Fundamentals (WBT)