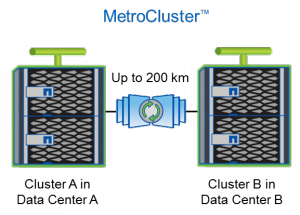 IT professionals are under an enormous amount of pressure with IT budgets shrinking and an ever growing need for high data availability in a 24/7 environment. In order to meet ever increasing service-level agreement (SLA) requirements, continuous availability needs to be ensured with zero data loss while keeping the cost low. In addition, mission critical infrastructure is a result from today's highly virtualized environments, where no single application is critical, but if the entire infrastructure were to fail the business would suffer a devastating impact.
With a high demand for zero data loss and zero downtime, NetApp created a software called MetroCluster that runs on the clustered Data ONTAP storage operating system, starting with ONTAP 8.3. This software not only provides continuous data availability across data centers for mission-critical applications, it also provides rapid and seamless recovery in the event of an outage.
NetApp MetroCluster Data ONTAP 8.3 combines array-based clustering with synchronous mirroring between a primary and secondary data site, within a 200 km distance, to provide continuous data availability that is simple to use and cost effective. Not only does it provide local high-availability and non-disruptive operations within the data center, it also supports non-disruptive operations beyond the data-center against the major causes of downtime, which includes power and network faults. In the event of a total site disruption, data services are protected when the secondary site takes over.
There is also a de-duplication feature that further extends MetroCluster's low cost through maximizing storage utilization and providing substantial storage savings. Storage savings are between 20-30% for non-virtualized environments, and 50-90% with applications and virtualized environment.
NetApp and VMWare also have a partnership that offers a complete availability solution from server to storage in a virtualized environment. VMWare's VMSC handles application availability while MetroCluster provides continuous data availability in the event of any disruption.
(Visited 559 times, 1 visits today)