If you have been waiting to find out what new features are in clustered Data ONTAP 8.3, then the wait is now over.  Clustered Data ONTAP 8.3 includes features that both the small site and enterprise storage administrator can appreciate.
In the FAS 2000 and 2200 series controllers, one constant problem has always been the dedicated 3 disk root aggregate.  There are so few disks in this two chassis configuration to begin with, so reserving 6 of 12 disks for root aggregate storage significantly reduces the amount of available space.
Clustered Data ONTAP 8.3 introduces a feature called root partitioning. The benefit of this feature is that it eliminates the dedicated 3 disks, and instead opts for using a small partition on each disk for a root partition.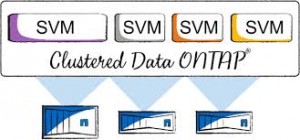 The bad news is that support for this feature is currently limited to the FAS 2500 series controllers.  If you aren't using a FAS 2500, don't fret, there are many additional features such as selective LUN mapping and version independent SnapMirror that are sure to peak your interest. There has also been a major shift in the way that networking is handled in version 8.3.
To learn about these new features and more, listen to Fast Lane's webinar from March 11, 2015 to explore what's new with clustered Data ONTAP 8.3.  Click here to listen to this webinar.
(Visited 984 times, 1 visits today)