The Growing Demand
Does your organization have a mobility strategy or are you reacting to employee demands as they come? In today's world, it is essential to provide your employees with anytime, anywhere access to the information they need to complete their jobs. As the complexity and size of organizations grow, managing mobility and BYOD becomes more difficult and more critical. The rise of the mobile mentality has more people working from their smart phones, tablets and personal devices. Gartner predicted that by 2017 more than 40% of companies will encourage the use of personal mobile devices and that more than 70% of professionals will conduct work on them.
Cisco and Illuminas conducted a study to find out what is driving the demand for BYOD and enterprise mobility and how IT departments are handling it. The study found that 51% of organizations have an enterprise mobility strategy in place with the primary initiatives in these strategies being mobile security (78%), mobile device management (65%), and VPN access (64%). They found that there was a larger focus on employee mobility than customer mobility and that the top benefits of employee mobility are increased productivity, increased business efficiencies, and cost savings.
Concerns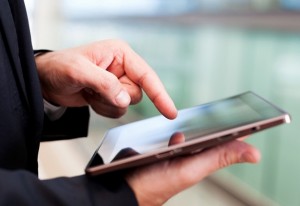 The study by Cisco and Illuminas also found that the main concern of IT is managing security across mobile devices. 44% of organizations say that managing security risks is such a challenge that it prevents them from moving ahead with a mobility plan. Other concerns include increased IT infrastructure costs and delivering a secure, consistent experience across devices.
Functionality
For most organizations, the functionalities accessible on mobile devices are still very limited to basic applications like email and Internet. Only a few companies offer the level of access that employees have in the office such as file server access, virtualized desktops, and custom business applications on smartphones and tablets.
Strategies and Policies
Organizations lose a lot of control when their corporate data is accessible over a personal device. Companies should expect employees to use their own devices and come up with strategies and policies to protect the network and company data. When creating polices, IT departments must understand that employees behave differently when given the freedom of mobile use, blurring the line between business and personal activity. They use their own devices with many different operating systems and apps and communicate across managed and unmanaged networks and the cloud. Custom developing or using preexisting apps that are relevant to the company can help streamline business processes, enhance employee productivity and improve customer satisfaction.
Enterprise mobility management proposes systems including password protection, remote wipe technology, and encryptions to prevent unauthorized access. An ideal policy supports the management of user and app access, data and application protection, device management and most importantly, threat protection. Protection is key for mobility policies. IT must protect data from malware, unapproved and insecure apps, and unauthorized access. Mobile devices can be easily lost or stolen which makes them highly vulnerable.
When determining the correct enterprise mobility strategy, an organization must take into account the overall purpose of the work being conducted and how employees are using their mobile devices in the workplace to determine how closely that should align with mobile IT. IT leaders must also identify what they need to secure. It is difficult to have a clearly defined security policy in place if you haven't defined what assets need protection.
(Visited 248 times, 1 visits today)